The Gluten Free Table provides a platform for me to share delicious recipes alongside beautiful photography. Developing The Gluten Free Table has given me the opportunity to lend my aesthetic to a growing list of editorial and advertising clients. On an ongoing basis I develop, style and photograph recipes for Country Road and most recently I've been featured in Vogue Living.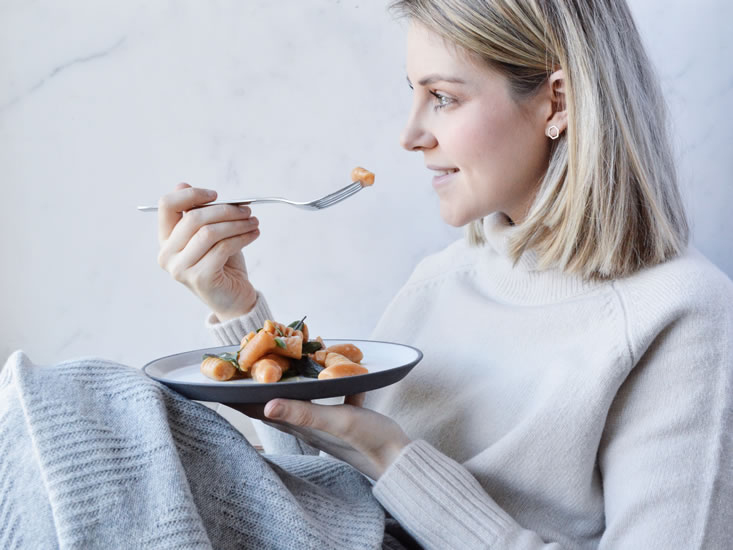 I Don't Always Work Alone
My husband, and lovely hand model, has been a pillar of support throughout the highs and lows of establishing The Gluten Free Table. Keep an eye out for him lurking in some of the photography.
My love of food wouldn't ordinarily have led me here. My coeliac diagnosis was entirely unexpected. I had no apparent symptoms apart from a curious case of anaemia and a vitamin deficiency. I later found out that when coeliac disease isn't treated with a gluten-free diet, the lining of the small intestine is damaged, leading to malabsorption of iron and other nutrients. From personal experience, having coeliac disease can make an individual feel incredibly isolated.
Food plays an integral role in our society – throughout all stages of our lives, whether young or old, celebrating or commiserating, we gather together around a carefully cooked meal and we eat. It's integral to who we are and how we develop relationships and share our lives. Being diagnosed with coeliac disease has the potential to make you question that sense of belonging.
What Are Your Really Eating?
While there are many gluten-free alternatives lining the supermarket shelves and my concern is that by categorising anything labelled 'gluten-free' as safe, we're less likely to be examining what we're putting into our bodies. While a packet of biscuits is labelled 'gluten-free' doesn't mean it's not full of additives and preservatives. If time allows, why not see going 'gluten-free' as an opportunity to get back into the kitchen like I did.
Why not try your hand at baking. Get your kids involved and find a banana bread recipe, gather ingredients and teach them how to measure milk and whisk eggs. The blessing of a gluten-free diet is that you need to be aware of the ingredients of almost everything you eat. When you're baking your own biscuits you get to see what you're putting into the bowl and, ultimately, into your body.