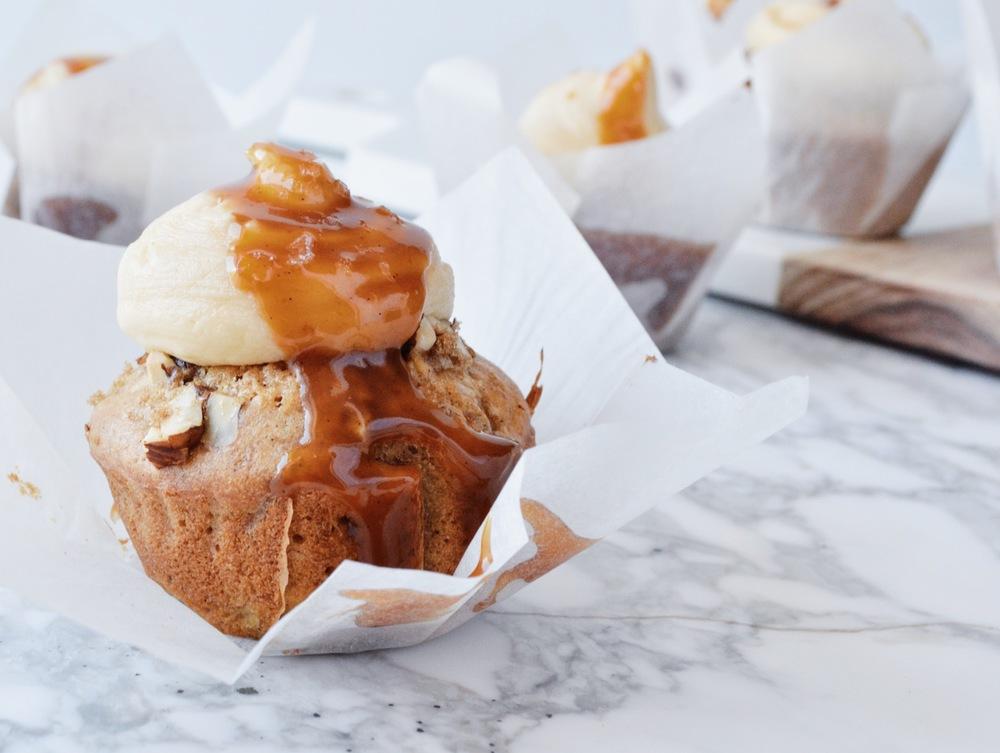 This healthy take on a traditional muffin is surprisingly easy to make. I've also included a recipe for salted caramel buttercream, depending on whether you're looking to nourish your body or indulge your sweet tooth.
THE MUFFINS:
1/3 cup extra-virgin olive oil
1/2 cup maple syrup
2 eggs, preferably at room temperature
1 cup packed mashed ripe bananas
1/4 cup milk of choice
1 teaspoon baking soda
1 teaspoon vanilla extract
1/2 teaspoon salt
1/2 teaspoon cinnamon, plus more for sprinkling on top
1 3/4 cups gluten free all purpose flour
1/3 cup crushed hazelnuts (plus an extra tablespoon)
1 tablespoon brown sugar
THE SALTED CARAMEL BUTTERCREAM:
125g white caster sugar
80ml thick cream
1/2 teaspoon salt (or to taste)
1 teaspoon vanilla extract
160g salted butter, softened
200g icing sugar
Salt flakes, to serve
THE MUFFINS:
Preheat oven to 160°C. Line a 12 hole, 1/3 cup-capacity muffin pan with paper cases.
In a large bowl, beat the oil and maple syrup together with a whisk. Add eggs and beat to combine.
Stir in the mashed bananas and milk, then the baking soda, vanilla extract, salt and cinnamon.
Add the flour and crushed hazelnuts to the bowl and mix until combined.
Divide the batter evenly between the muffin cups.
Bake muffins for roughly 25 minutes, or until a toothpick inserted into a muffin comes out clean.
Stand in pan for 2 minutes before turning out onto a wire rack to cool.
THE SALTED CARAMEL BUTTERCREAM:
Heat the caster sugar and four tablespoons of water in a saucepan over a gentle heat until the sugar has dissolved.
Then increase the heat and cook the caramel for 2-3 minutes, or until golden and slightly thickened.
Remove the pan from the heat immediately and stir in the cream. The caramel may spit a little when you add the cream so be careful.
Stir in the salt and vanilla and set aside to cool completely.
Cream the butter and icing sugar together for at least 4- 5 minutes, then beat in half of the caramel.
When combined pipe or spread the icing over the cup cakes and drizzle with remaining caramel and salt flakes.