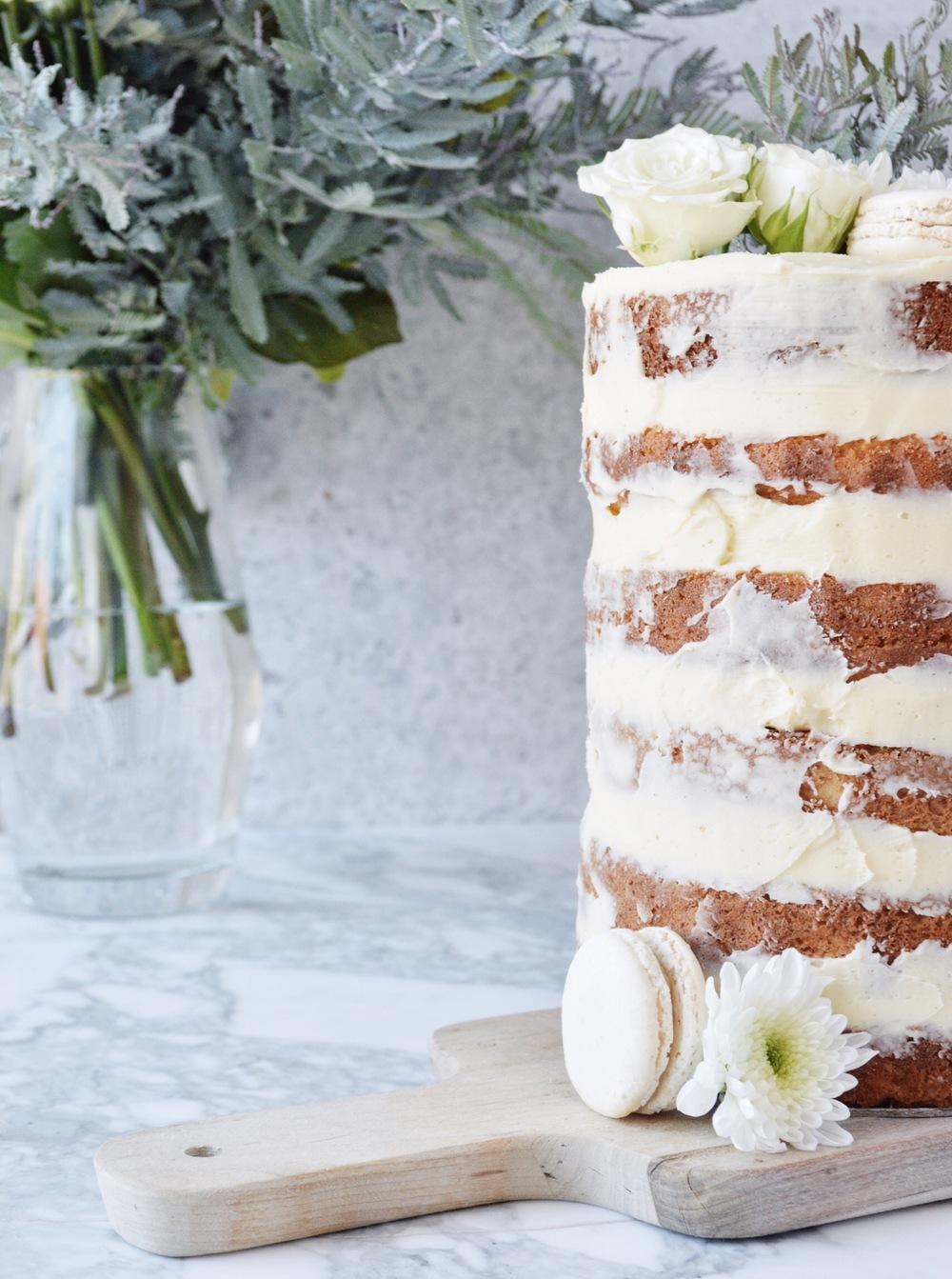 Orange yoghurt layer cake
Makes one 6 layer – 6 inch (15cm) cake
Not only is this cake incredibly moreish and flavoursome, it is also gluten-free and low in refined sugar making it the perfect all-rounder. It's such an accommodating cake: it keeps well and it is perfect either with butter cream for an indulging treat, or simply served dusted in icing sugar for the calorie conscious amongst us.
THE CAKE
240 ml vegetable oil
3 eggs
1 1/2 tablespoon finely grated orange rind
90ml orange juice
1 1/3 cup (370g) plain Greek-style (thick) yoghurt, or goat's milk yoghurt
1¾ cups (385g) caster (superfine) sugar
3 cups (450g) plain gluten-free flour
3 teaspoons gluten-free baking powder
THE FROSTING:
1 1/2 cups unsalted butter, softened
3 cups icing sugar
pinch salt
1 teaspoon vanilla bean paste
THE ASSEMBLY:
5 flowers of your choosing
3 macarons
Preheat oven to 160C and grease and line three 6-inch cake pans and set aside. Place the oil, eggs, orange rind, orange juice, yoghurt and sugar in a large bowl and whisk to combine. Sift over the flour and stir until smooth. Evenly pour into the three cake tins and bake for 20-25 minutes or until a skewer inserted comes out clean. Allow the cake to stand in the tin for 5 minutes. Carefully turn the cake out onto a wire rack to cool completely.
To make the frosting, place the butter in the bowl of a stand mixer fitted with a paddle attachment. beat on medium speed until creamy. Reduce the speed to low and gradually add the confectioners' sugar and beat to combine. Then beat in the salt and vanilla.
Carefully cut the three cake rounds in half. Measure a half way mark with a ruler and score the cake before you cut – this will help you get even layers. Set aside cakes once they are cut.
To assemble place one of the cake bases onto a cake round (I buy mine from Spotlight) or cake stand. Use a piping bag to carefully pipe frosting flush with the edge of the cake. Make an outline of a circle and then fill with additional buttercream. Repeat the process of stacking your cake layer, then filling with butter cream until you reach the top layer. Use one of the cake bases turned upside down as the top layer – this will give you a beautiful, even top. Use a spatula to frost the top of the cake and then smooth the buttercream around the side of the cake.
Cut the stems of your flowers and place into the top of the cake. Be sure to wrap the cut ends of the flowers in glad wrap before inserting. For more detailed instructions on assembling your naked cake, follow this link.
If making a cake with multiple layers isn't your thing, simply use a 6cm-deep, 22cm (base) round cake pan. If you have any batter left over – make a few cupcakes.