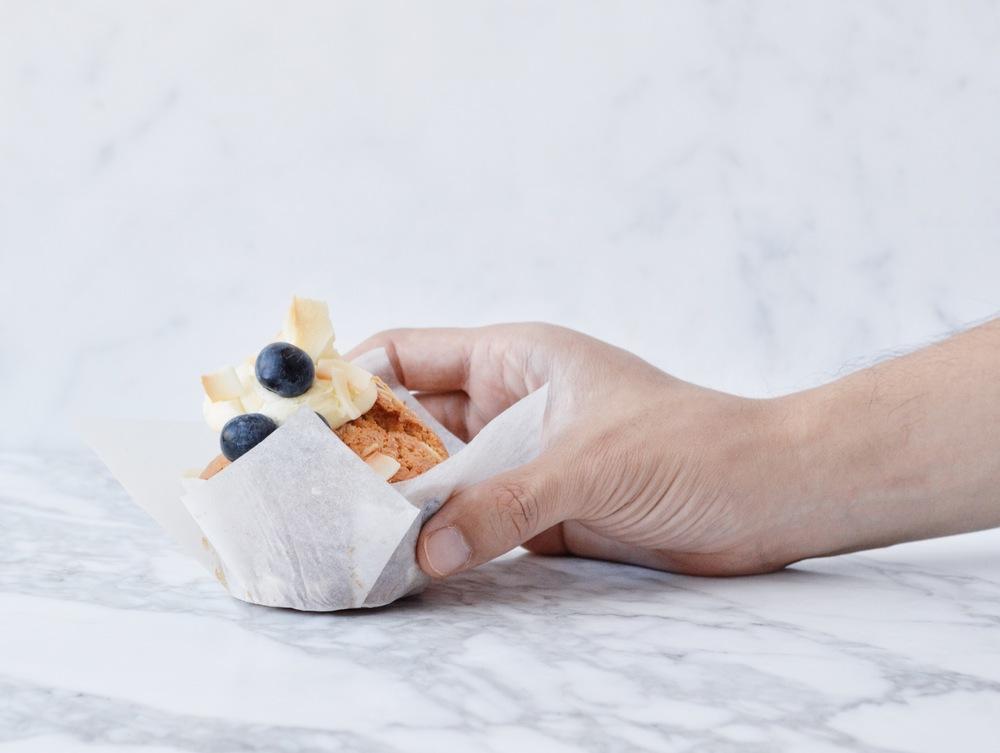 Blueberry and coconut muffins
Monday morning got you searching for something a bit different for breakfast? With blueberries and toasted coconut, this breakfast-on-the-go tastes great, is low in calories and uses yoghurt instead of butter. As per usual the buttercream frosting, although delicious, is entirely optional.
THE MUFFINS:
2 cups (375g) gluten free all purpose flour, sifted
2 teaspoons baking powder
2/3 cup (110g) caster sugar, plus more for sprinkling
3 eggs, lightly beaten
3/4 cup (180ml) vegetable oil
1/2 cup (140g) thick Greek-style (natural) yoghurt
1 teaspoon vanilla extract
1/3 cup (30g) shredded coconut, plus more for sprinkling
1 cup (150g) frozen blueberries
THE BUTTERCREAM:
125g butter, softened
1 1/2 cups icing sugar mixture
1 tablespoon milk
1 teaspoon vanilla paste
THE MUFFINS:
Preheat oven to 180C and line a 12 x 1/2 cup capacity muffin tin with paper cases. Lightly coat the paper cases with non-stick cooking spray.
Place the flour, baking powder, sugar, egg, oil, yoghurt and vanilla in a bowl and mix until just combined.
Gently fold through the toasted coconut and blueberries. Spoon mixture into prepared muffin tin.
Sprinkle with extra coconut and sugar and bake for 25-30 minutes or until a skewer inserted in centre of a muffin comes out clean.
Stand in pan for 5 minutes.
Turn out onto a wire rack to cool.
To make the buttercream:
Beat butter in a bowl until pale using an electric mixer.
Gradually add icing sugar mixture and milk, beating constantly until combined.
Top muffins with vanilla buttercream (optional) and decorate with flaked coconut and blueberries to serve.