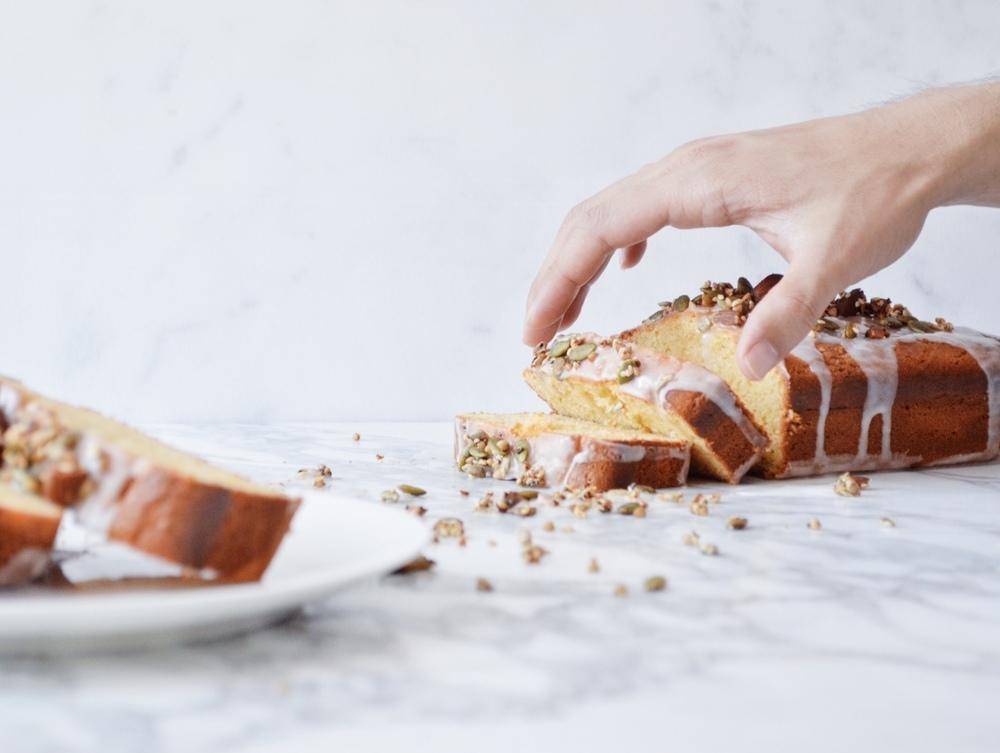 Combining grapefruit, yoghurt and a sprinkling of muesli this may be the ultimate breakfast loaf. Not only a humorous play on my very favourite breakfast things, this loaf is also moist, super delicious and can be thrown together in minutes.
THE LOAF:
1 1⁄2 cups gluten free all purpose flour
2 teaspoons baking powder
3⁄4 teaspoons kosher salt, plus more
1 tablespoon finely grated grapefruit zest
1 cup caster sugar
2 large eggs
1⁄3 cup vegetable oil
1 teaspoon vanilla paste
3⁄4 cup plain Greek yogurt
THE GLAZE:
1 tablespoon plain Greek yogurt
1⁄2 cup icing sugar
1/2 cup muesli, to decorate
THE LOAF:
Preheat oven to 160C. Line a loaf pan with non-stick baking paper and lightly coat with nonstick spray.
Whisk flour, baking powder and salt in a medium bowl. Using your fingers, work grapefruit zest into the sugar sugar in a large bowl until sugar starts to clump and mixture is fragrant.
Add eggs, oil, and vanilla to the sugar mix and beat with an electric mixer on high speed until light and thick, about 4 minutes.
Reduce speed to low and mix in half of dry ingredients, then mix in 3⁄4 cup yogurt.
Mix in remaining dry ingredients.
Scrape batter into prepared pan and smooth top.
Bake loaf until top is golden brown and a tester inserted into the centre comes out clean, roughly an hour.
Transfer to a wire cooling rack.
THE GLAZE:
Whisk icing sugar, 1 tablespoon of yogurt, 1 teaspoon of water and a pinch of salt in a medium bowl until smooth and drizzle over cake.
Sprinkle with your choice of muesli and let sit until glaze is set, about 30 minutes.