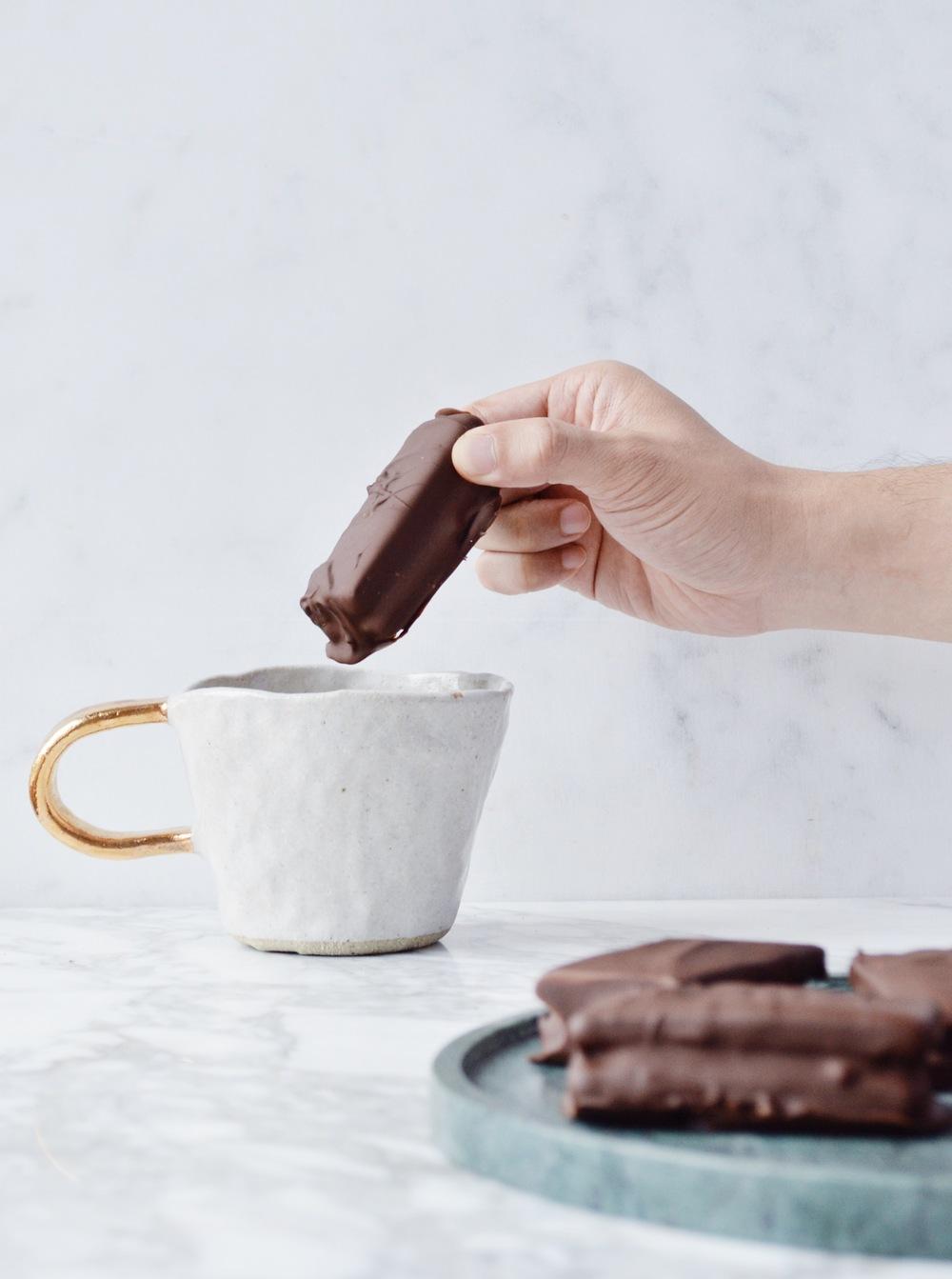 Inspired by an Aussie favourite, here's my gluten-free take on the much loved Tim Tam.
THE BISCUIT:
115 grams unsalted butter, softened
1/2 cup (115 grams) caster sugar
1 large egg
1/4 cup (30 grams) unsweetened (Dutch) cocoa powder
1 cup (150 grams) gluten free all purpose flour
Pinch of salt
THE FILLING:
115 grams unsalted butter, softened
1 cup (125 grams) icing sugar
1 tablespoon (Dutch) cocoa powder
1 tablespoon vanilla bean paste
THE COATING:
100 grams milk chocolate
100 grams 70% dark chocolate
1 tablespoon coconut oil
THE BISCUIT:
Using an electric mixer, beat butter and sugar for 5 minutes or until light and fluffy.
Add egg. Beat until combined (mixture may curdle).
Sift flour, cocoa powder and salt over butter mixture and beat until combined. If the dough is too soft, add 1/4 cup additional flour and beat to combine. Repeat this process until the dough comes together and can be handled.
Place the dough onto a piece of non-stick baking paper on a work surface, top with another piece of baking paper, and roll out into a large rectangle about 0.5cm thick. Put the dough on a tray and place in the freezer for 30 minutes.
Preheat oven to 180°C/160°C fan-forced. and line two baking sheets with non-stick paper. Take the dough from the freezer and using a small sharp knife, cut into 3cm x 5cm rectangles.
Re-roll scraps and repeat to make 28 rectangles.
Separate the rectangles and spread them out on the lined baking trays.
Bake for 8 to 10 minutes.
Stand on trays for 10 minutes.
Transfer to a wire rack to cool completely.
THE FILLING:
Use an electric mixer to beat icing sugar, cocoa, vanilla paste and butter until light and fluffy.
Sandwich biscuits together using 1 1/2 teaspoons chocolate mixture.
Refrigerate for 20 minutes.
THE COATING:
Place milk chocolate and dark chocolate and coconut oil in a heatproof, microwave safe bowl.
Microwave on medium for 2 to 3 minutes, stirring every 30 seconds with a metal spoon, or until melted and smooth.
Place a sandwiched biscuit on a wire rack set over a baking tray lined with baking paper.
Dip the sides of each biscuit in chocolate mixture and place on rack.
Pour 1 tablespoon melted chocolate over each biscuit to cover.
Set aside for 1 hour or until set (see note).
In hot weather, place the biscuits in the fridge or freezer to set.