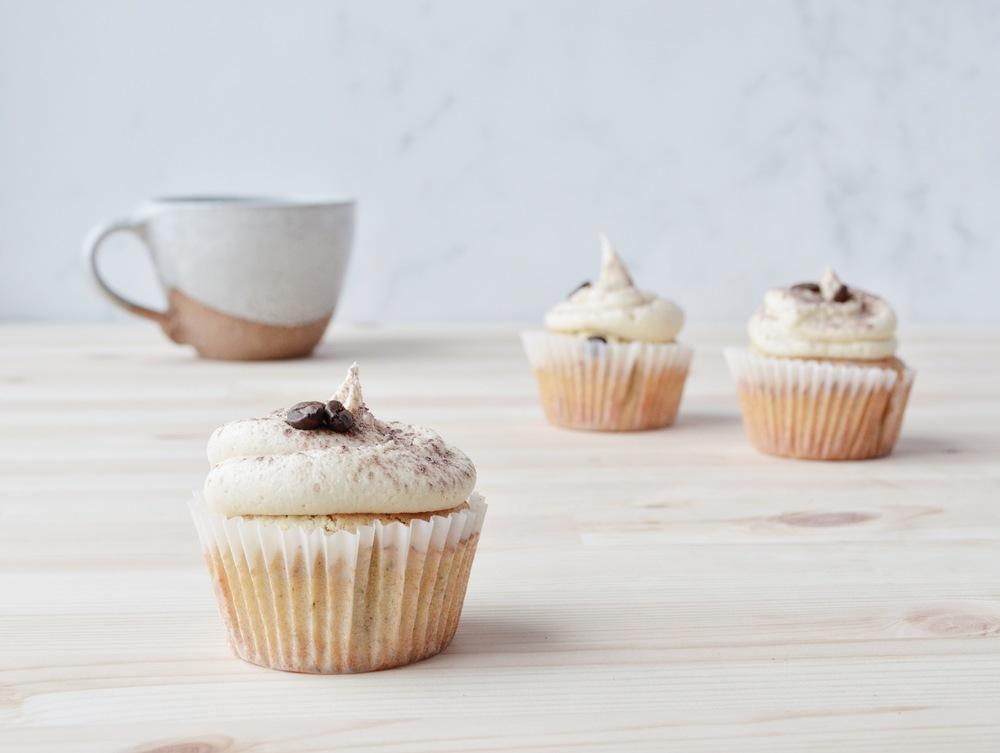 If you are a fan of Chai tea and dirty (coffee spiked) Chai lattes, this is a way to incorporate those wonderfully earthy flavors into your baked goods.
For the cupcakes:
1/2 teaspoon each ground ginger, cinnamon, cardamom and cloves
1/2 cup (110 g) butter, softened
1 cup sugar
1 egg
1/2 teaspoon vanilla extract
1 1/2 cups gluten free all purpose flour
1 1/2 teaspoons baking powder
1/4 teaspoon salt
2/3 cup milk
For the espresso buttercream:
220 grams unsalted butter, at room temperature
2 1/2 cups powdered sugar
1 1/2 teaspoons vanilla extract
1 1/2 teaspoons espresso powder
For the cake:
Make Combine the ginger, cinnamon, cardamom and cloves in a small bowl.
In a large bowl, cream butter and sugar until light and fluffy with an electric mixer.
Next, add the egg and vanilla.
In a separate bowl combine the flour, baking powder, salt and a teaspoon of the spice mixture. Gradually add flour, alternating with milk, to creamed mixture beating well after each addition.
Fill paper-lined muffin cups two-thirds full. Bake at 180C for roughly 25 minutes or until a toothpick inserted near the center comes out clean.
Cool for 10 minutes before removing from pans to wire racks to cool completely.
For the espresso buttercream:
Whisk the espresso powder into the vanilla until dissolved then set aside.
Using the whisk attachment of a stand mixer, whip the butter on medium-high speed for 5 minutes, stopping once to scrape the sides.
Reduce the mixer speed to low and add the powdered a few tablespoons at a time, waiting until it is mostly incorporated before adding more.
Once all of the powdered sugar has been added, scrape the sides of the bowl and increase the speed to medium-high and whip until fluffy, about 1 to 2 minutes.
Add the espresso and vanilla mixture and mix at medium-high speed until it is completely incorporated.
Dollop or pipe the icing onto the cupcakes and decorate with coffee beans and cocoa powder.