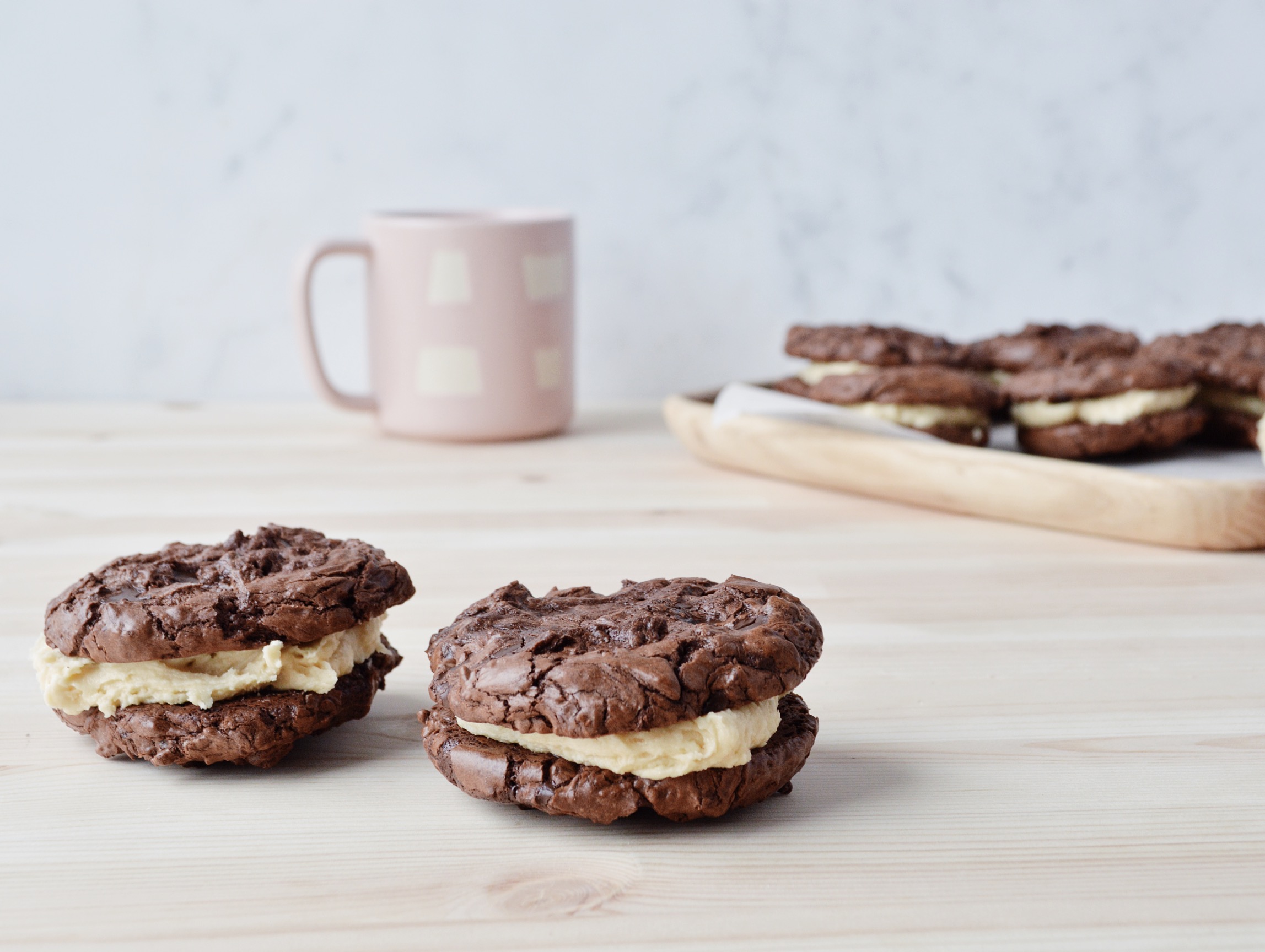 Espresso brownie sandwich
This gluten free espresso brownie sandwich is head and shoulders above others; it's a rich sandwich cookie with great espresso flavour in the buttercream filling.
For the brownie cookie:
200g dark chocolate, chopped
40g unsalted butter
2 eggs
2/3 cup (150g) caster sugar
1 teaspoon vanilla extract
1/4 cup (35g) gluten free all purpose flour, sifted
1/4 teaspoon baking powder, sifted
For the espresso buttercream:
1 (220) cup unsalted butter, at room temperature
2 1/2 cups powdered sugar
1 1/2 teaspoons vanilla extract
1 1/2 teaspoons espresso powder
For the brownie cookies:
Preheat oven to 180°C.
Place the chocolate and the butter in a small saucepan over low heat and cook, stirring, until completely melted and smooth. Set aside.
Place the eggs, sugar and vanilla in an electric mixer and whisk for 15 minutes or until pale and thick.
Stir through the flour, baking powder, chocolate mixture and allow to stand for 10 minutes.
Drop tablespoons of the mixture onto baking trays lined with non-stick baking paper, ensuring they have room to spread.
Bake for roughly 10 minutes or until cracked. Allow to cool on trays.
For the espresso buttercream:
Whisk the espresso powder into the vanilla until dissolved then set aside. Using the whisk attachment of a stand mixer, whip the butter on medium-high speed for 5 minutes, stopping once to scrape the sides.
Reduce the mixer speed to low and add the powdered a few tablespoons at a time, waiting until it is mostly incorporated before adding more. Once all of the powdered sugar has been added, scrape the sides of the bowl and increase the speed to medium-high and whip until fluffy, about 1 to 2 minutes.
Add the espresso and vanilla mixture and mix at medium-high speed until it is completely incorporated. Dollop or pipe the icing onto the cupcakes and decorate with coffee beans and cocoa powder.
Assemble cookies by sandwiching a tablespoon of espresso buttercream between two evenly sized cookies.