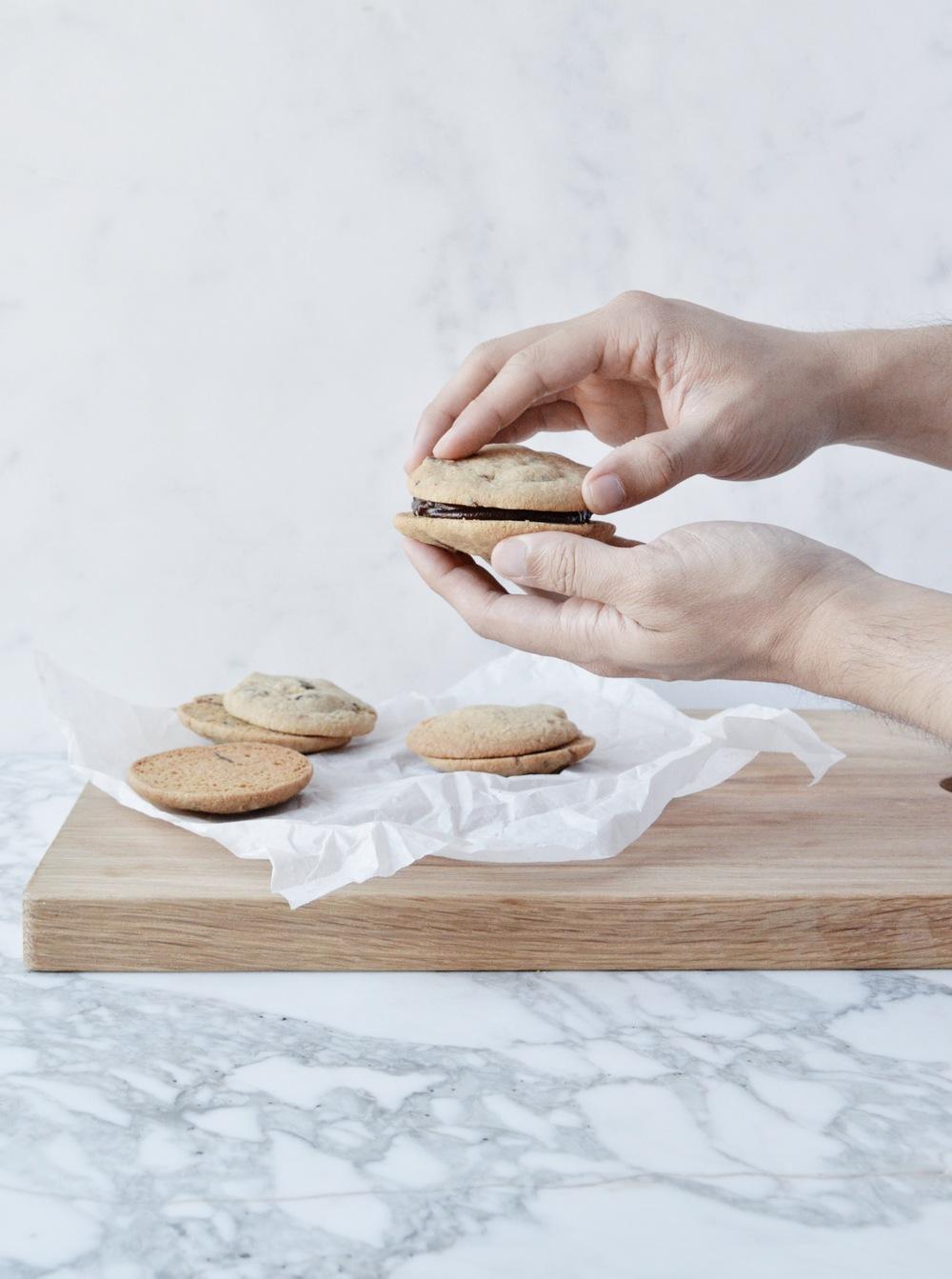 This chic chip cookie sandwich is head and shoulders above the rest. It's a hefty sandwich cookie with great chocolate flavour in both the rich filling and the chewy cookie. The flecks of sea salt, sprinkled on the ganache filling gives these traditional choc chip cookies a decadent twist.
COOKIES:
80g unsalted butter, softened
3/4 cup (120g) brown sugar
1 teaspoon vanilla extract
2 eggs
2 cups (300g) gluten free all purpose flour, sifted
1 teaspoon baking powder
150g dark chocolate chips
DARK CHOCOLATE GANACHE:
300g dark chocolate
1/2 cup thickened cream
1 teaspoon flaked salt
TO MAKE THE COOKIE
Preheat oven to 180C and line two baking trays with non-stick baking paper.
Place the butter, sugar and vanilla in the bowl of an electric mixer and beat until pale. Gradually add the eggs and beat well.
Add the flour and baking powder and beat until a smooth dough forms.
Fold through the chocolate.
Roll 2 tablespoonfuls of the mixture into balls, and press to flatten with the back of a spoon or damp fingers.
Bake for 12–15 minutes or until golden. Allow to cool on the trays.
TO MAKE THE GANACHE
To make the ganache, place chocolate and cream in a glass or ceramic microwave-safe bowl.
Microwave on medium for 2 to 3 minutes, stirring every 30 seconds with a metal spoon, or until smooth.
Stand at room temperature until thickened.
To assemble, transfer the cooled cookies to a work surface, flipping half of them over.
With an offset spatula or a butter knife, spread a tablespoon of filling onto each turned-over cookie, then sprinkle with salt flakes.
Set another cookie on top of each filled half and press gently to spread the filling.
Store sealed at room temperature or in the refrigerator.