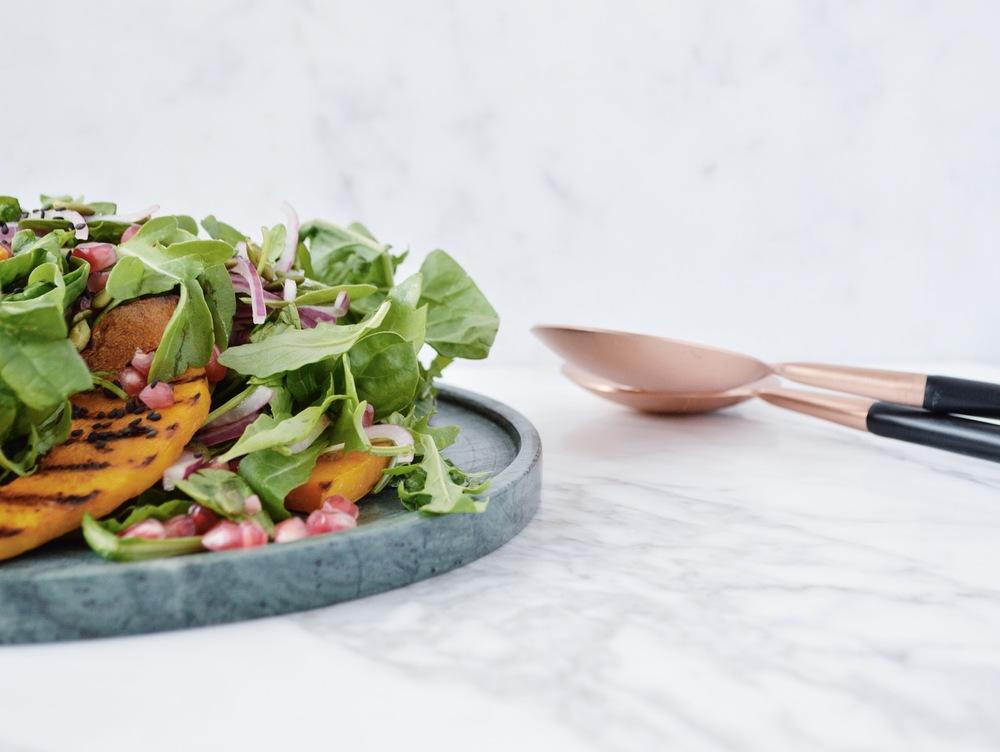 Grilled pumpkin and pomegranate salad
Grilled pumpkin, pomegranate and a garlicky yoghurt dressing combine in a salad bursting with flavour. With a balanced combination of opposing flavours and textures, this is truly a recipe which is more than just the sum of its parts. Delicious served alongside any grilled protein, this salad is wonderfully versatile.
THE SALAD:
1 Spanish onion, finely sliced
1/2 cup (120ml) white wine vinegar
300 grams pumpkin sliced to 1cm
1 tablespoon olive oil
Seeds from 1/2 pomegranate
1/4 cup pumpkin (pepita) seeds
2 cups baby rocket leaves
1 tablespoons black sesame seeds
THE DRESSING:
1 cup (250 ml) natural yoghurt
1 teaspoon tahini
2 cloves garlic, crushed
1 tablespoon lemon juice
THE SALAD:
Place onion in a small bowl and add vinegar. Let sit at room temperature for 30 minutes to an hour to pickle slightly and loose some of its sharpness.
Place pumpkin in a large bowl. Add oil and toss to coat.
Heat a char grill pan or large frying pan over medium-high heat.
Cook pumpkin for 5 to 7 minute each side or until browned and tender.
Set aside to cool.
THE DRESSING:

For garlic yoghurt sauce, combine ingredients and stir until smooth.
Season to taste with sea salt and freshly ground black pepper.
If the dressing is too thick, add water (a little at a time) until it's a looser consistency.
Combine remaining ingredients in a bowl, adding roasted pumpkin, onion, pomegranate and pumpkin seeds. Toss to combine.
Drizzle with yoghurt dressing and scatter with black sesame seeds.