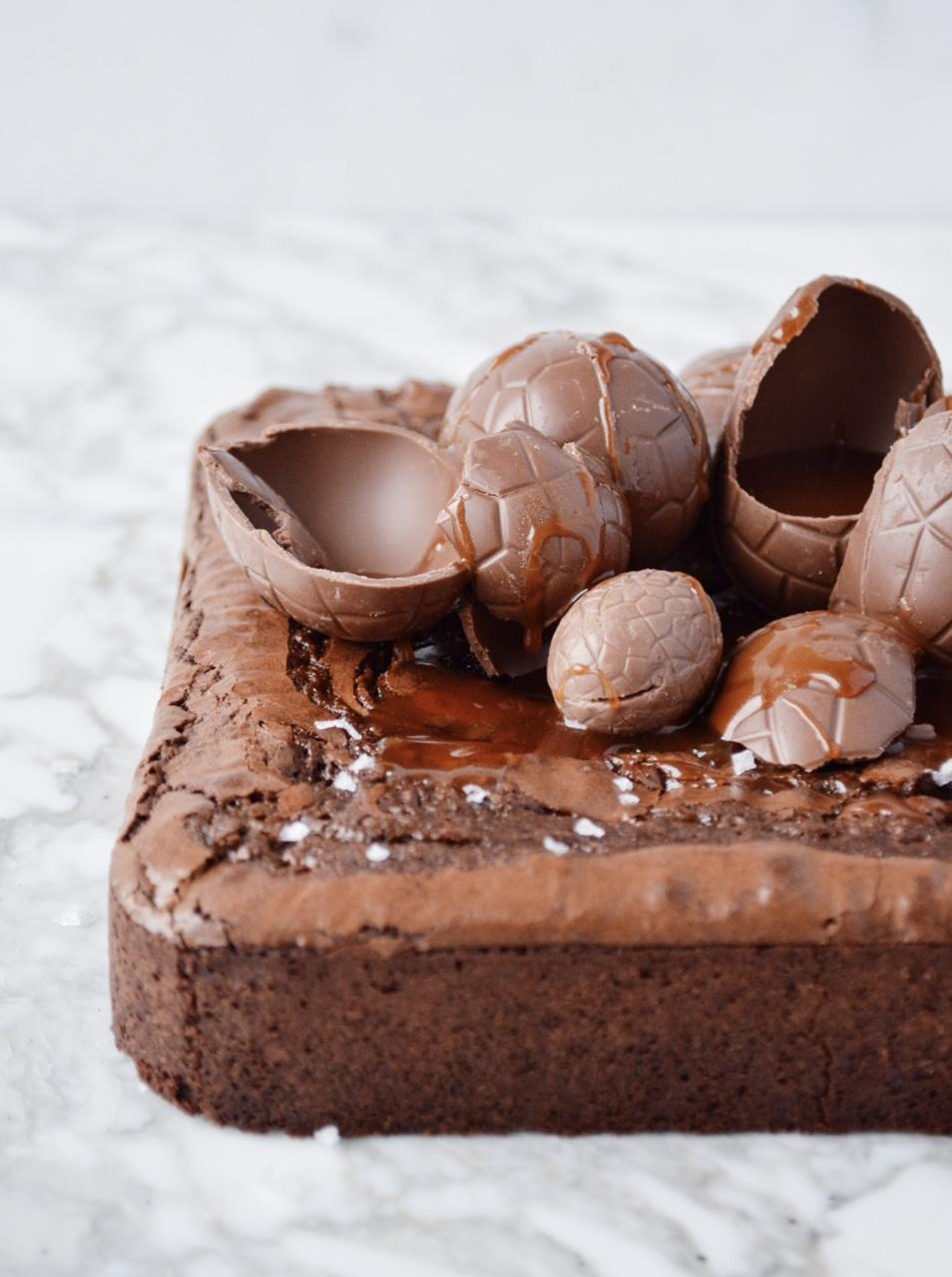 My foolproof recipe for salted caramel brownies. Perfect with a cup of tea or a scoop of ice-cream for dessert these brownies will satisfy any chocolate craving.
THE SALTED CARAMEL:
1 cup (250ml) pouring cream
50g unsalted butter
1½ cups (330g) white sugar
½ cup (125ml) water
1 teaspoon sea salt flakes
THE BROWNIES:
185g unsalted butter
185g best dark chocolate
100g plain gluten free all purpose flour
40g cocoa powder
3 large eggs
200g golden caster sugar
THE SALTED CARAMEL:
To make the salted caramel, combine the sugar and water in a saucepan over medium-low heat until the sugar dissolves.
Increase the heat and bring to a boil, without stirring. If necessary, use a wet pastry brush to wash down any crystals on the side of the pan. Boil until the syrup is an amber color, about 5 to 6 minutes.
Remove the sugar from the heat and carefully whisk in the heavy cream. The mixture will bubble.
Stir in the unsalted butter and salt.
Transfer the caramel to a dish and cool.
THE BROWNIES:
Preheat oven to 160ºC. Grease a 16 cm x 26 cm slice tin and line the base and sides with non-stick baking paper.
Place the dark chocolate and butter in a medium heatproof bowl over a saucepan of simmering water (don't let the base of the bowl touch the water).
Stir occasionally until chocolate and butter melt and the mixture is smooth. Remove bowl from saucepan and set aside to cool.
Sieve the flour and cocoa powder into a medium bowl, getting rid of any lumps.
Break 3 large eggs into a large bowl and tip in brown sugar.
With an electric mixer on maximum speed, whisk the eggs and sugar until they are thick and creamy. You'll know it's ready when the mixture becomes pale and about double its original volume.
Pour the cooled chocolate mixture over the eggy mixture, then gently fold together with a rubber spatula.
Next, gently fold the flour mix into the brownie batter. The mixture will look dry at first but will end up looking thick and fudgy.
Pour the mixture into the prepared tin, scraping every bit out of the bowl with the spatula. Gently ease the mixture into the corners of the tin and paddle the spatula from side to side across the top to level it.
Finally, pour over 1/2 cup of the salted caramel mix in a zigzag pattern.
Bake in preheated oven for 45-50 minutes or until moist crumbs cling to a skewer inserted in the centre.
Remove from the oven and cool in tin on a wire rack (this will take about an hour).
Remove brownie from the tin using the baking paper to lift it out. Cut into portions to serve.