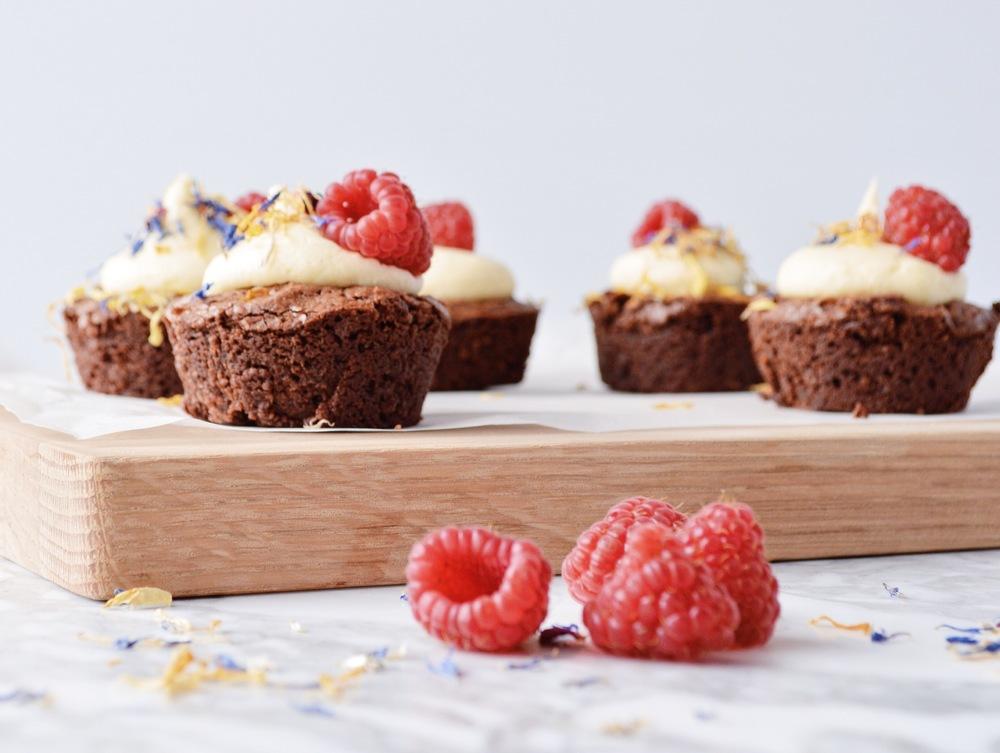 Perfectly chewy and easy to make these gluten free brownies are my go to recipe when I need to indulge. They can be made individually or in a brownie pan as per the usual. The world is also full of opportunities when it comes to alternatives for the raspberries. Try blackberries, blueberries, chocolate chips or even chewy caramel chocolates (ermahgerd). Please do let me know how your creations turn out. It honestly makes my week to see you, my lovely readers, making these little old recipes your own.
THE BROWNIES:
1 cup dark chocolate melts
85g unsalted butter, cut into squares
1/2 teaspoon salt
3/4 cup brown sugar
1 teaspoon vanilla paste
2 eggs
2/3 cup almond meal or hazelnut meal
1/3 cup gluten free all purpose flour
½ cup frozen raspberries (optional)
THE BUTTERCREAM:
125g butter, softened
1 1/2 cups icing sugar mixture
1 tablespoon milk
THE BROWNIES:
Preheat the oven to 180C with the rack in the lower third.
To make traditional brownies, grease and line a brownie pan across the bottom and sides with non-stick baking paper. Allow the baking paper to overhang slightly. *See instructions below for individual brownies.
Place chocolate, butter and salt in a heatproof bowl over simmering water. Stir occasionally until chocolate is melted and the mixture is smooth.
Remove from the heat and let the chocolate mixture cool for roughly five minutes.
Add the vanilla, sugar and eggs to the bowl and stir until combined.
Next, add the almond and flour and stir until there are no lumps remaining.
Finally, add the frozen raspberries to the mix, gently stirring them through the batter.
Pour the batter into the brownie pan and spread evenly, baking for 20 to 25 minutes or until slightly cracked on top.
Once cooked, remove from oven and cool in the pan before trying to remove.
For the buttercream:
Beat butter in the bowl of an electric mixer until pale.
Gradually add icing sugar mixture and milk, beating constantly until combined.
Pipe on top of brownies and decorate with raspberries and dried flowers.
For individual brownies, exchange the pan for a muffin tin. Line the bottoms of the muffin tin with non-stick baking paper and generously grease the sides. Reduce the cooking time to 15-20 minutes and wait for the brownies to cool in the pan before trying to remove. If you try to remove the brownies from the muffin tin before they're cool enough – they'll fall apart. If you're having any trouble removing them, pop the entire tin in the fridge and wait for the brownies to harden before trying to remove again.