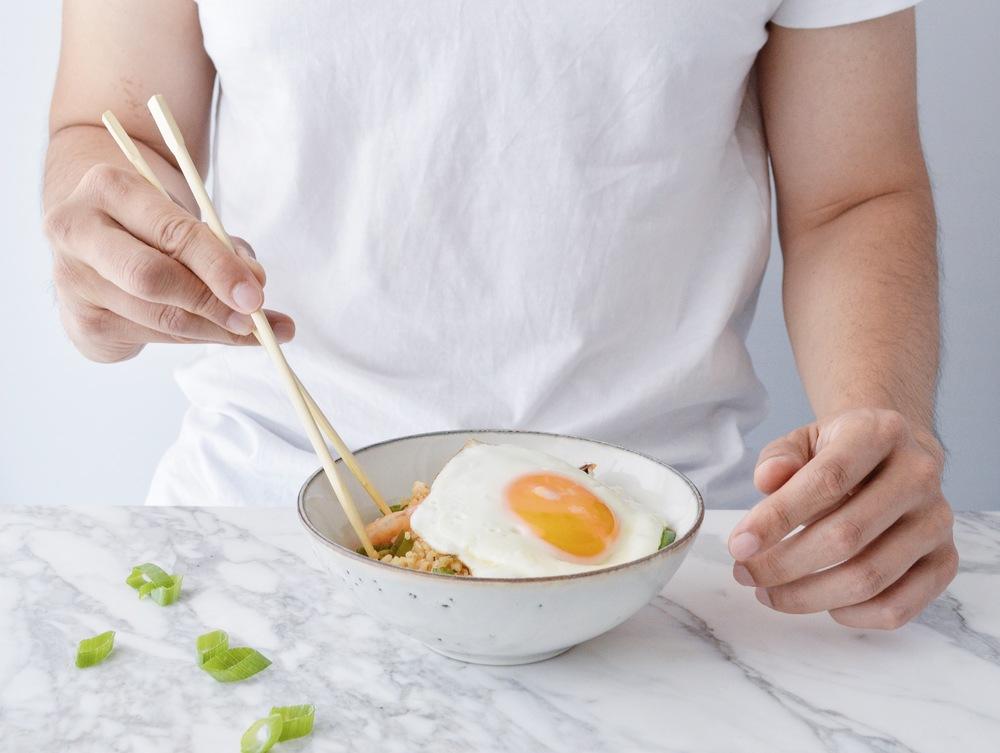 Happy Chinese New Year. Partake in the joy of Chinese New Year with this fried rice recipe, known to bring good fortune. Actually I've no idea whether it's known to bring good luck or not. But that said, how could something this delicious not be lucky?
2 tablespoon vegetable oil, divided
12 peeled de-veined prawns
Pinch of salt
6 spring onions, whites chopped, greens thinly sliced
2 cloves garlic cloves, chopped
2 tablespoons finely grated ginger
3 cups cold cooked white rice
2 large eggs, beaten to blend
1/2 cup frozen peas, thawed
3 tablespoons soy sauce
2 tablespoons chilli paste
2 tablespoons unseasoned rice vinegar
1 teaspoon toasted sesame oil
Heat one tablespoon of oil in a wok over medium-high heat, season prawns with salt and cook until just transparent in the centre.
Set aside.
Heat the remaining tablespoon of vegetable oil in the wok and add the spring onion whites, garlic, and ginger.
Cook, stirring constantly until fragrant, about 1 minute, then add rice and stir to coat.
Cook until rice is crisp, about 2 minutes.
Herd the rice to one side of wok and add the eggs to other side.
Using a fork or chop sticks, whisk the eggs until they're cooked and then stir into the rice.
Add peas, chilli paste, soy sauce, vinegar, sesame oil, and cooked prawns.
Cook, tossing constantly, until shrimp and vegetables are heated through, about 1 minute.
Top with spring onion greens and serve with extra chilli paste.
If you forget to thaw the prawns in the morning, set the bag in a large bowl filled with cold water. They will defrost in minutes. One cup of dry rice will yield 3 cups cooked; leftover rice, which is slightly dried out, makes the best stir-fries.