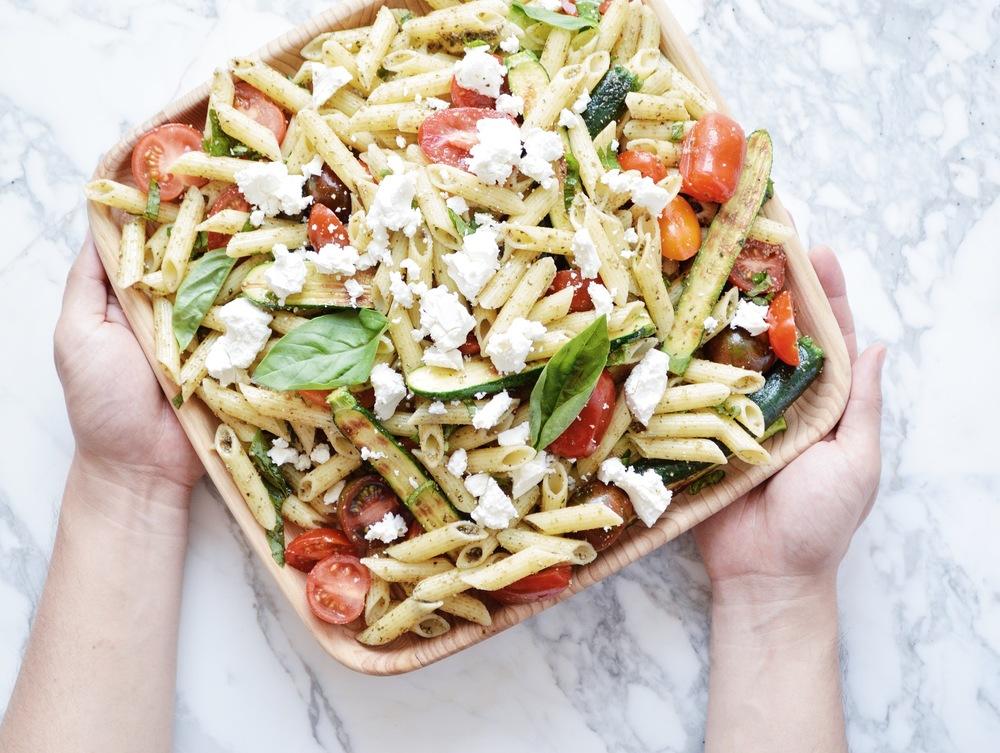 Pesto and tomato pasta salad
This pasta salad is simple to prepare, delicious and can be made with any ingredients you please. Throw in left over roasted vegetables or grilled protein. Gluten free and with a dairy free option, this salad is a life saver if you're hosting guests with tricky diets.
THE PESTO
2 cups fresh basil leaves
1/4 cup olive oil
1/4 cup shelled unsalted pepitas
1/2 teaspoon lime juice
1/2 teaspoon coarse kosher salt
THE PASTA SALAD
250g grape heirloom tomatoes, or cherry tomatoes
12 baby zucchinis
1 tablespoon olive oil
Salt and pepper to taste
500g gluten-free penne
2 tablespoons pesto
150g goats cheese, to serve
THE PESTO:
Add the olive oil, pepitas, lime juice and salt to food processor.
Blend until it is a thick paste, scraping sides of processor with a spatula.
Add basil leaves and blend until basil is well incorporated.
Set aside.
For the pasta salad:
Cut zucchinis in half lengthwise and season with salt and pepper.
In a large pan, heat olive oil on medium-high heat.
Add zucchini to pan and sauté about 2 minutes on each side until lightly browned.
Set aside to cool.
Cook pasta in a large pan of boiling water until al dente.
Drain into a large colander and rinse under cold running water to cool.
Drain well and place into a large bowl along with a generous slug of olive oil.
Allow to cool to room temperature before adding two tablespoons of the pesto.
Stir pesto through the pasta before add the tomatoes and zucchinis and tossing to combine.
Serve at room temperature, scattered with goat's cheese.
The pesto used in this recipe and all other ingredients besides the goats cheese also happen to be low FODMAP. The pesto keeps for about 3-4 days in the refrigerator and the recipe makes about one cup.