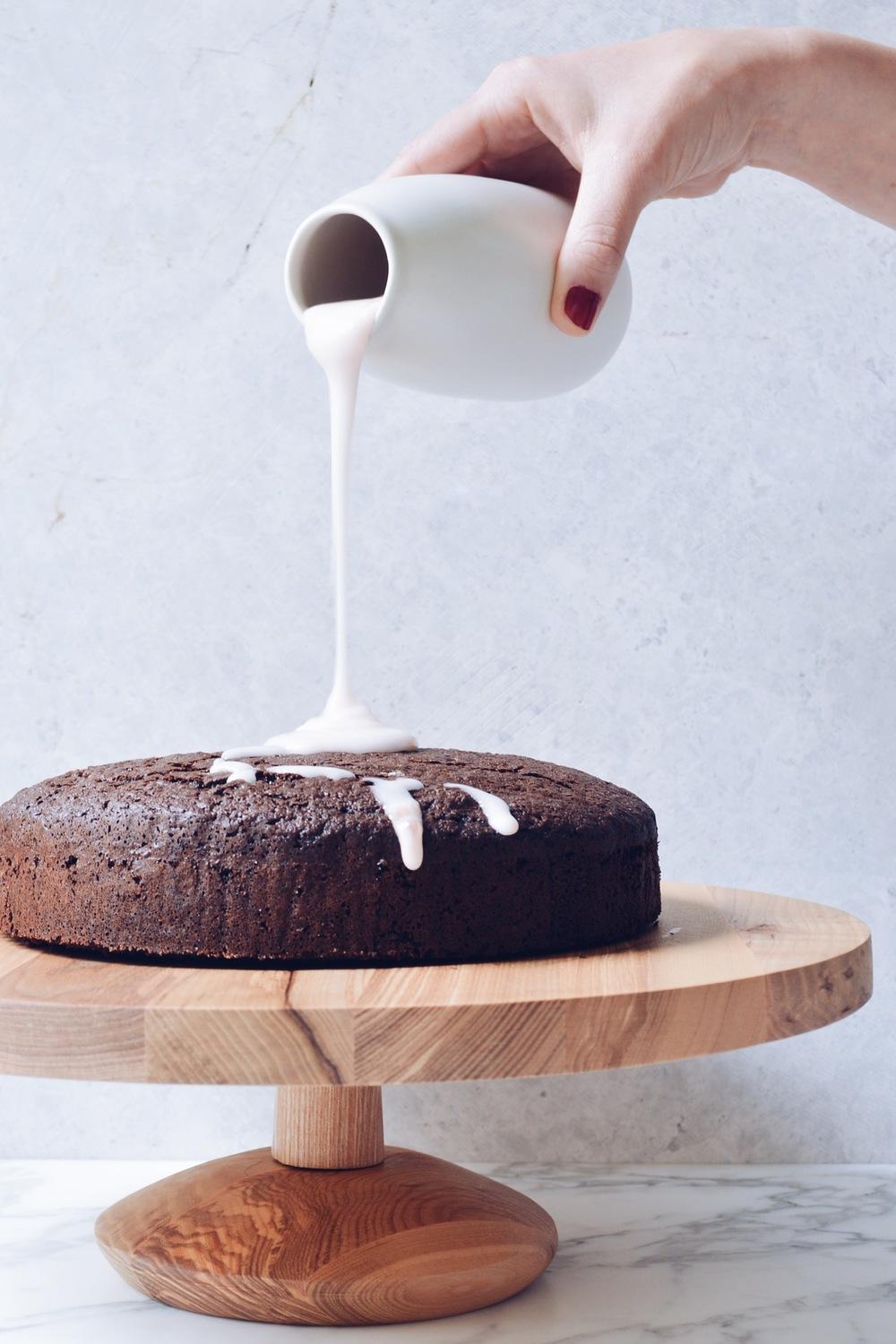 This is about as healthy as it gets without making a chocolate cake out of beetroot or black beans. It's the chocolate cake I bake to celebrate, drizzled in grape fruit glaze. It's also the cake I bake when I need something warm and comforting, served with rich vanilla ice-cream. This chocolate cake is a reliable friend for all seasons of life. Using oil instead of butter makes this a wonderfully rich and moist dairy free chocolate cake. It's decadent and earthy without being cloyingly sweet.
THE CHOCOLATE CAKE:
150 ml regular olive oil (plus more for greasing)
50 grams good-quality cocoa powder (sifted)
125 ml hot espresso
2 teaspoons best vanilla extract
150 grams ground almonds
125g plain gluten free all purpose flour
½ teaspoon bicarbonate of soda
1 pinch of salt
150 grams brown sugar
3 large eggs
THE GRAPEFRUIT GLAZE:
280g (1 3/4 cups) pure icing sugar, sifted
80ml (1/3 cup) ruby grapefruit juice
THE CAKE:
Preheat your oven to 170°C. Grease and like a 23 cm spring form tin with non-stick baking paper.
Measure and sift the cocoa powder into a bowl and whisk in the freshly brewed espresso until you have a smooth paste.
Whisk in the vanilla extract and set aside to cool a little.
In another bowl, combine the ground almonds and flour with the bicarbonate of soda a pinch of salt.
Put the sugar, olive oil and eggs into the bowl of a standing mixer with the whisk attachment and whisk until you have a pale, thickened cream. This will take roughly 3 minutes.
Turn the speed to low and pour in the cocoa and espresso mixture, beating as you go.
Once you've scraped in the last of the cocoa, gradually add in the ground almond and flour mixture to the bowl.
Scrape down the side and pour the batter into the prepared tin.
Bake for 40-45 minutes or until the sides are set with a skewer coming out clean, with just a couple of crumbs.
Let it cool for 10 minutes on a wire rack, still in its tin, and then ease the sides of the cake with a small metal spatula and spring it out of the tin.
Leave to cool completely and then liberally coat with the ruby grapefruit glaze.
THE GLAZE:
Whisk the icing sugar and grapefruit juice together in a small bowl.