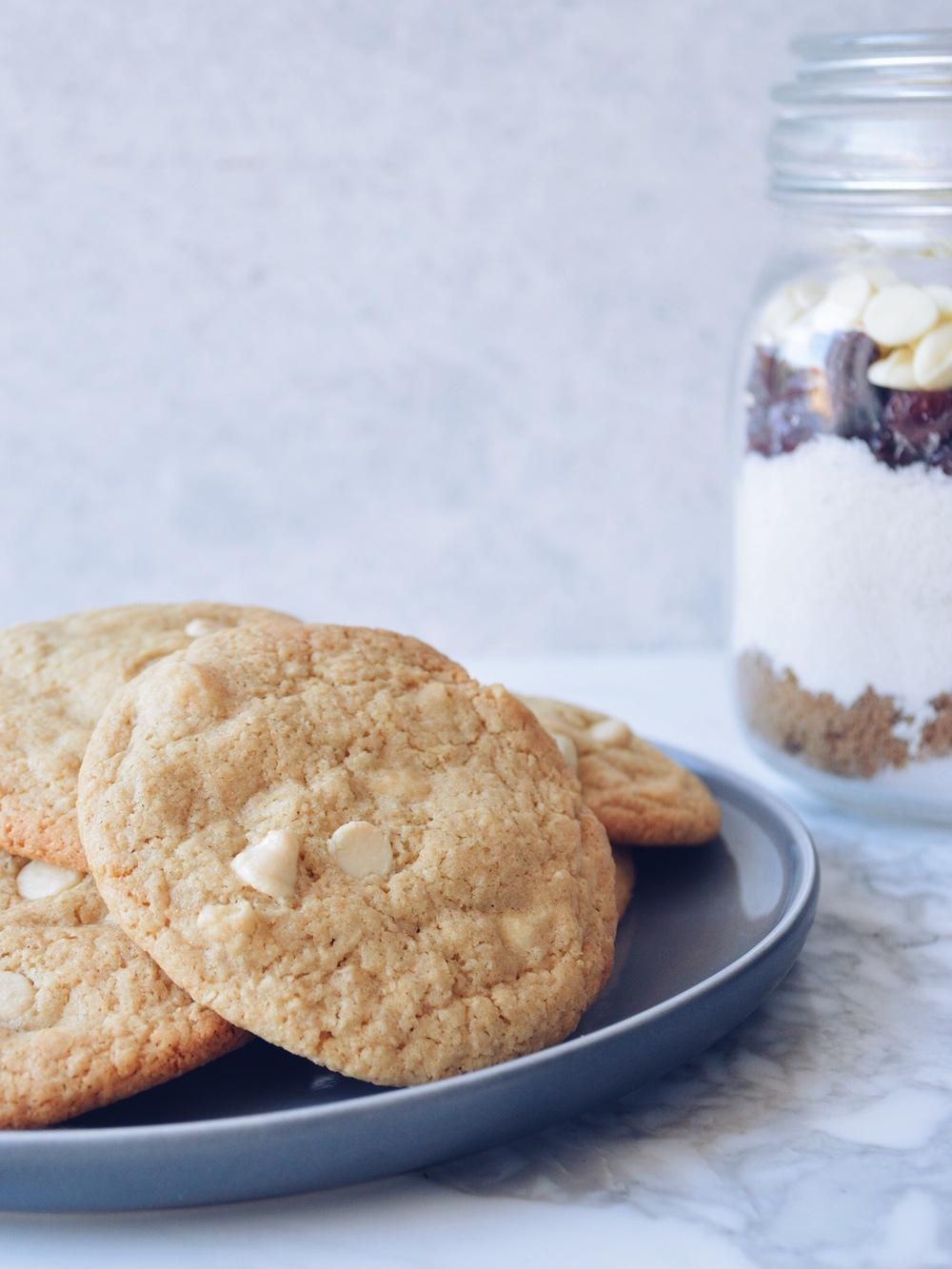 White chocolate cookie jars
With white chocolate, macadamia chunks and desiccated coconut these treats feel extravagant. When in truth, they couldn't be easier to make. There is nothing complicated about these jars of cookie ingredients. You can find the same jars I've used here at most Woolworth stores. Whatever jars or containers you use, look for something with a one litre capacity.
1 1/4 cups gluten free all purpose flour
1/2 teaspoon baking soda
1/2 teaspoon salt
1/3 cup desiccated coconut
1/3 cup brown sugar
1/3 cup caster sugar
3/4 cup toasted macadamia nuts, chopped (or dried cranberries)
1 cup white chocolate chips
Combine flour, baking soda and salt in a small bowl.
Spoon into the bottom of a one litre capacity jar.
Layer remaining ingredients in order given.
ATTACH THESE INSTRUCTIONS TO THE JAR:
Add contents of jar to a large bowl and mix well.
Add 110g of butter, 1 egg, and 1/2 teaspoon vanilla extract and stir until combined.
Drop rounded tablespoons onto a cookie sheet lined with baking paper.
Bake at 180C for 9-12 minutes or until lightly browned.
Remember to include the baking instructions on a sweet little tag, tied to the jar. If you have the time, toasting heightens the flavour of the macadamias. To toast macadamia nuts, spread them in a single layer on a baking tray. Bake in a 180C oven for 5 to 10 minutes or until light golden brown, stirring once or twice to brown evenly. If you'd like to try a different version of the cookie, swap the macadamia nuts for dried cranberries.