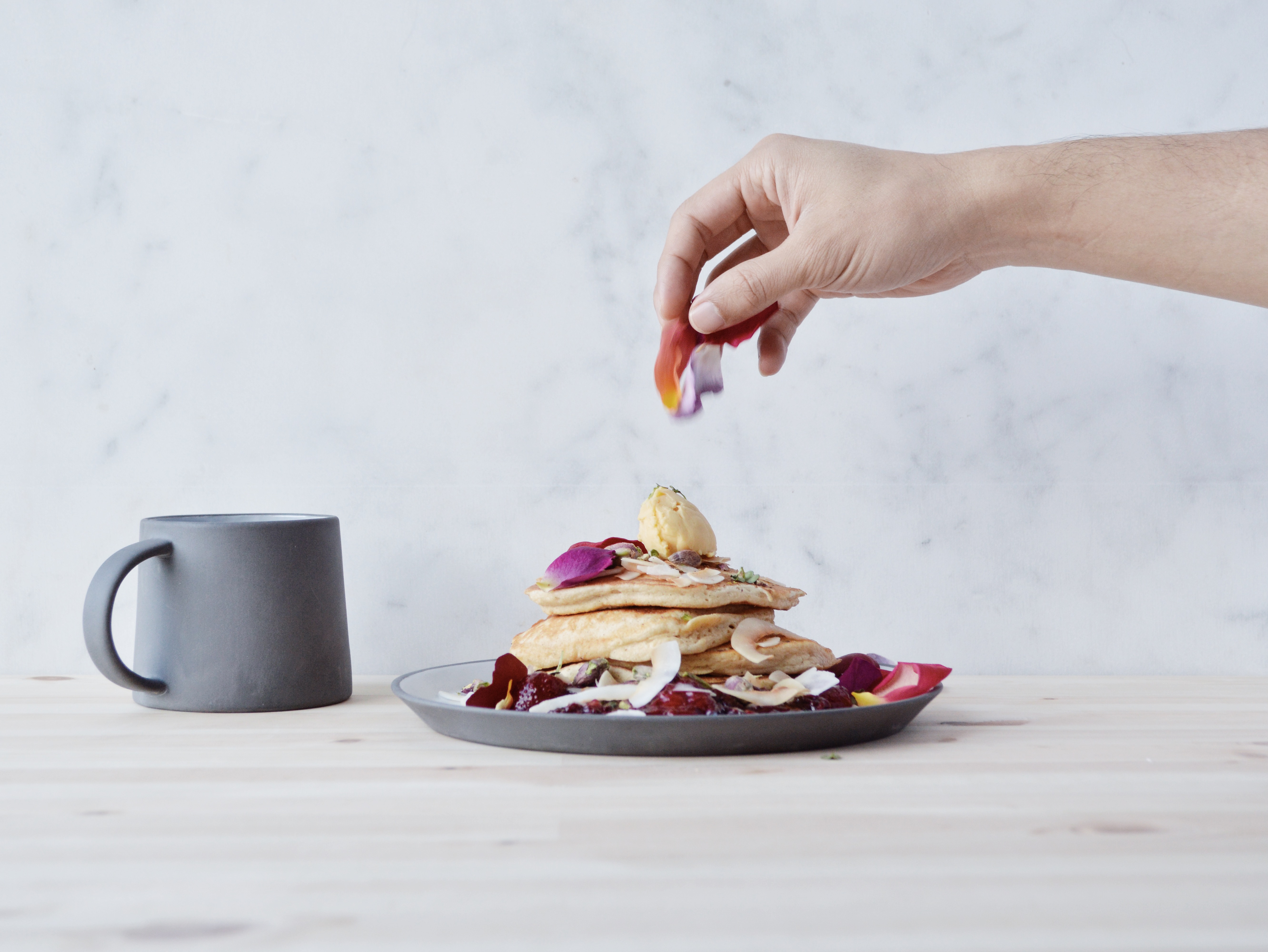 Tall, fluffy pancakes make the best breakfast, especially when they're drizzled with maple syrup. Make them extra special with a berry relish and edible flowers.
FOR THE BERRY RELISH
2 cups fresh or frozen berries
1/4 cup caster sugar
1/4 cup (60ml) maple syrup
1 teaspoon cornstarch
FOR THE MAPLE BUTTER
80g butter, softened
2 tablespoons maple syrup
FOR THE PANCAKES
2 cups gluten free all purpose flour
2 teaspoons baking powder
2 lemons, rinds finely grated
1 vanilla bean, seeds scraped
4 eggs, separated
1/4 cup maple syrup
300 ml buttermilk
1/4 cup coconut flakes, to serve
1/4 cup pistachios, to serve
Edible flowers, to serve
FOR THE BERRY RELISH
To make the berry relish, combine the cornstarch with a tablespoon of water and set aside.
Place berries, sugar and maple syrup in a saucepan and simmer over a low heat for 3 minutes until berries have softened. Slowly add cornstarch mixture and cook, stirring continuously until compote is thick and glossy, about 1-2 minutes.
Set aside.
FOR THE MAPLE BUTTER
To make the maple butter, place the butter and maple syrup in a bowl and stir to combine.
Cover and refrigerate until ready to use.
FOR THE PANCAKES
To make the pancakes, combine the flour, baking powder, lemon rind and vanilla seeds in a bowl.
Whisk egg yolks, maple syrup and buttermilk until combined, add to flour mixture and mix until smooth.
In a separate bowl, use a hand mixer to whisk egg whites and a pinch of salt until soft peaks form, and then fold through flour mixture.
To cook the pancakes, heat a lightly greased large non-stick frying pan over low heat. Cook 1/3 of a cup of the mixture, in batches, for 3-4 minutes each side or until puffed and golden.
Serve warm hotcakes with berry relish, a dollop of maple butter, coconut flakes, crushed pistachios and edible flowers.