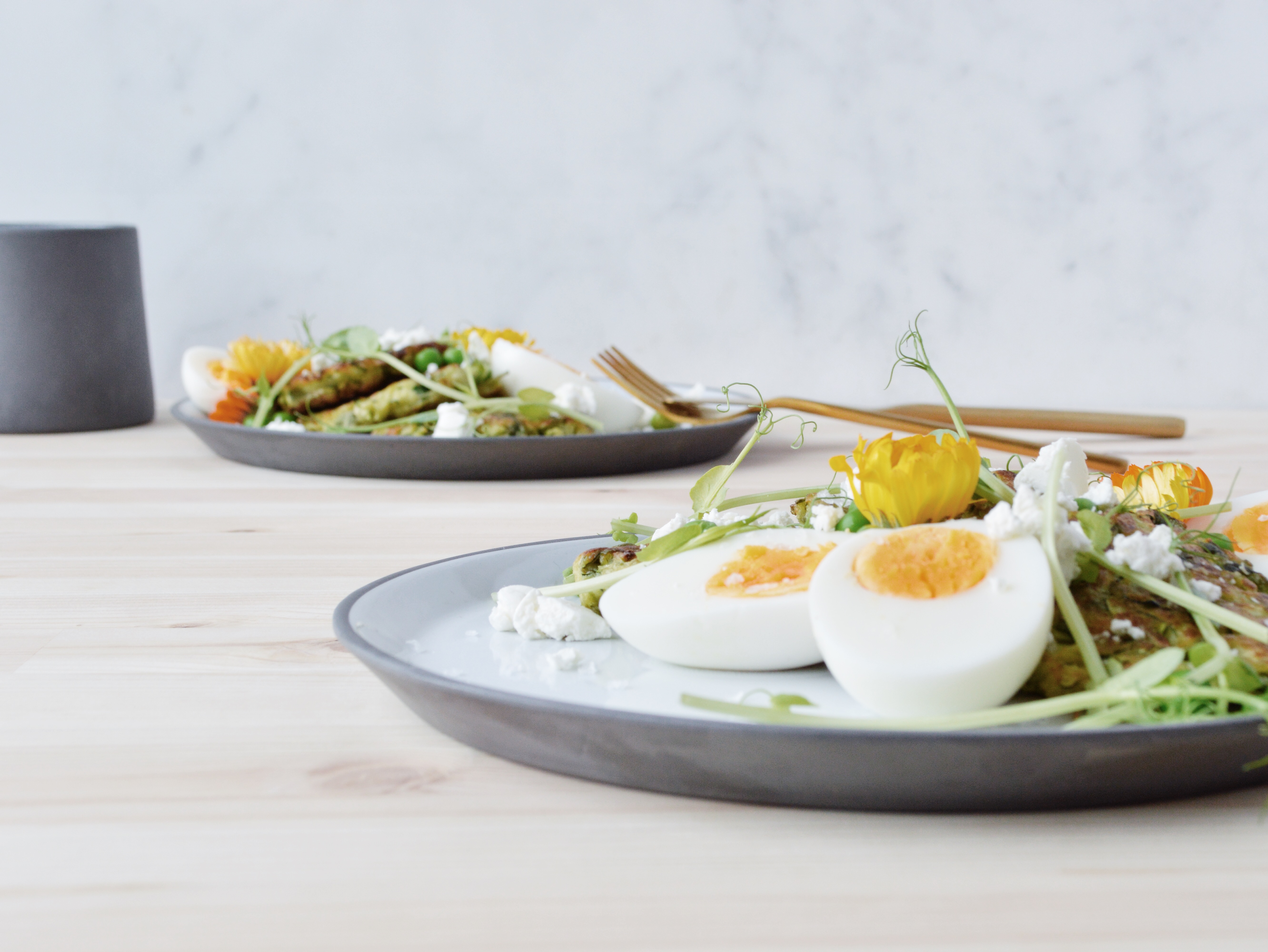 Zucchini and mint fritters
Whether for breakfast, brunch or lunch, these fritters are beautifully sophisticated and easy to make.
1 cup frozen peas
1/4 cup buttermilk
2 eggs
1/2 cup gluten free all purpose flour
3 zucchinis
2 spring onions, thinly sliced
1/2 cup coarsely chopped mint
4 eggs
200g goat's cheese, coarsely crumbled
Finely grated rind of 2 lemons, plus lemon wedges to serve
3/4 cup (loosely packed) pea tendrils (optional)
6 edible flowers, trimmed and halved lengthways (optional)
Grate the zucchini and place into a colander, sprinkle with a little sea salt and mix. Let it rest for 10 minutes. Once rested, squeeze out the moisture from the zucchini with your hands and then set aside.
Blanch peas in a saucepan of boiling water until tender and bright green, roughly two minutes. Drain the peas and pulse in a food processor to a chunky purée. Meanwhile, whisk the buttermilk and two eggs in a bowl to combine, then add flour and mix until smooth. Stir in the zucchini, spring onion, mint, lemon rind and pea puree then season to taste.
Preheat oven to 130C. Heat a centimetre of olive oil in a frying pan over medium heat. Add 1/2 cup fulls of batter and fry, turning occasionally, until golden brown and cooked through. Drain fritters on paper towels and place in a single layer on a baking tray in oven to keep warm.
Meanwhile, cook remaining four eggs in a saucepan of boiling water until cooked to your liking (the eggs pictured were cooked for 7 minutes). Remove from the water and, once cooled enough to handle, peel. Serve fritters with eggs, lemon wedges and goat's cheese and scatter with pea tendrils and edible flowers.