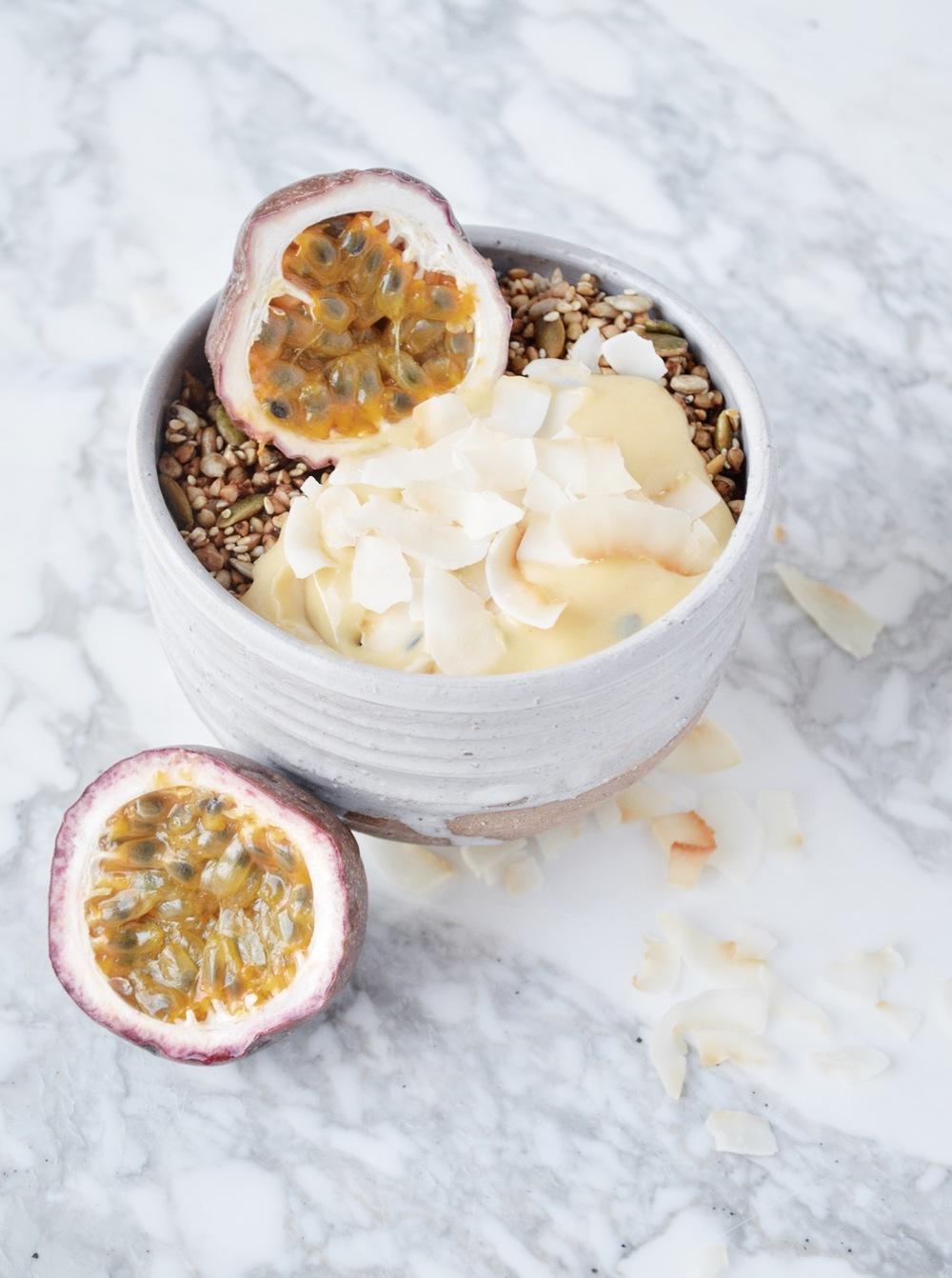 Granola with passionfruit curd
Lately I'm all about quick and easy breakfast options. This buckwheat granola, served with lucius passionfruit curd and coconut keeps my mornings simple, my tummy full, and my taste buds happy.
THE CRUNCHY GRANOLA:
1 cup (200g) raw buckwheat
1 cup (160g) almonds, chopped
1/2 cup (100g) pumpkin seeds (pepitas)
1/2 cup (100g) sunflower seeds
1/4 cup (35g) sesame seeds
1/4 cup (45g) chia seeds
1/2 cup (125ml) maple syrup
2 tablespoons coconut oil, melted
Milk, passionfruit curd and coconut to serve
THE PASSIONFRUIT CURD:
1/2 cup fresh passionfruit pulp or a 170g can of store-bought passionfruit pulp in syrup
60g unsalted butter, chopped
100g castor sugar
2 eggs, lightly beaten
1 egg yolk
THE CRUNCHY GRANOLA:
Preheat the oven to 150C.
Place buckwheat, almonds, all the seeds, maple syrup and coconut oil in a large bowl.
Toss to combine and spread evenly over 2 baking trays lined with non-stick baking paper.
Bake, stirring occasionally, for 45–50 minutes or until golden fragrant.
THE PASSIONFRUIT CURD:
Whisk the passionfruit pulp to loosen.
Combine the butter, sugar and passionfruit in a medium heatproof bowl.
Stand over a pan of simmering water (don't let the bottom of the bowl touch the water) and stir until the butter has melted and the mixture is smooth.
Using a whisk, gently stir in the eggs and yolk. Keep stirring for 20-25 minutes, or until the mixture has thickened. The passionfruit curd is ready when the mixture has thickened and coats the back of a spoon.
Once cooled, store granola in an airtight container until ready to use.
Serve with the milk and passionfruit curd, topped with toasted coconut chips.
If you're looking for a dairy free option, swap out the passionfruit curd for coconut yoghurt. However, if your okay with dairy, I couldn't recommend the passionfruit curd highly enough. It really does add a little luxury to your weekday breakfast routine.