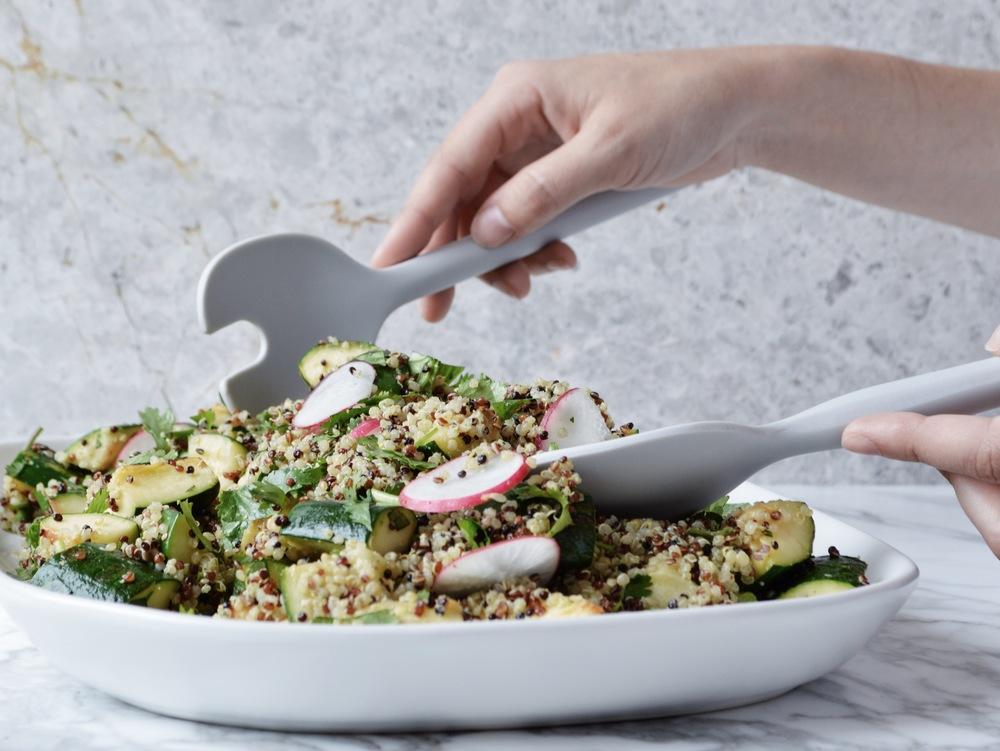 Grilled zucchini and quinoa salad
My grilled zucchini salad came about the way most of my favourite meals do, entirely by mistake. I had leftover zucchini and quinoa in the fridge and freshly made pesto in a jar by the stove. The remaining ingredients have been added over the years — my favourite goat's cheese for a salty punch and finely sliced radishes for their peppery bite. This recipe does involve some preparation, but what it creates is purely addictive.
1 cup quinoa
4 large zucchinis, quartered lengthwise
1 1/2 tablespoon extra-virgin olive oil
1/2 teaspoon sea salt
1 large garlic clove
2 spring onions, white and light green section
1/2 cup roasted almonds, plus more to garnish
1/2 teaspoon sea salt
1 1/2 bunch of coriander
6 radishes, ends trimmed, thinly sliced
Zest and juice of 3 large limes, about 1/3 cup juice
1/3 cup extra-virgin olive oil
1/2 cup crumbled goat's cheese, plus more to garnish
Rinse the quinoa in a sieve until the water runs clear.
Bring two cups of water to boil in a saucepan.
Add 1⁄2 teaspoon of salt and the rinsed and drained quinoa.
Bring back to boil, reduce the heat to low, cover and simmer for 15 minutes, or until the quinoa is tender.
Remove from the heat, leave for 10 minutes, and then fluff up using a large fork.
Set aside to cool.
Preheat a grill pan and toss the zucchini with the olive oil and salt until coated.
Grill the zucchini over high heat, turning once, until charred and just tender, about 7 minutes.
Transfer to a work surface and cut into 5cm pieces.
To make the almond and coriander pesto, blitz the garlic clove, spring onions, almonds, one bunch of coriander and lime juice in a blender until smooth.
Drizzle in the olive oil until you reach a pesto consistency. Add a little more olive oil if too dry and season to taste.
Combine the quinoa and two tablespoons of the pesto in a large bowl, use a fork to stir the pesto into the quinoa.
Finely chop the remaining coriander and add to the bowl.
Add the sliced zucchini, sliced radishes and goats cheese, season to taste then serve scattered with additional goat's cheese and roasted almonds.