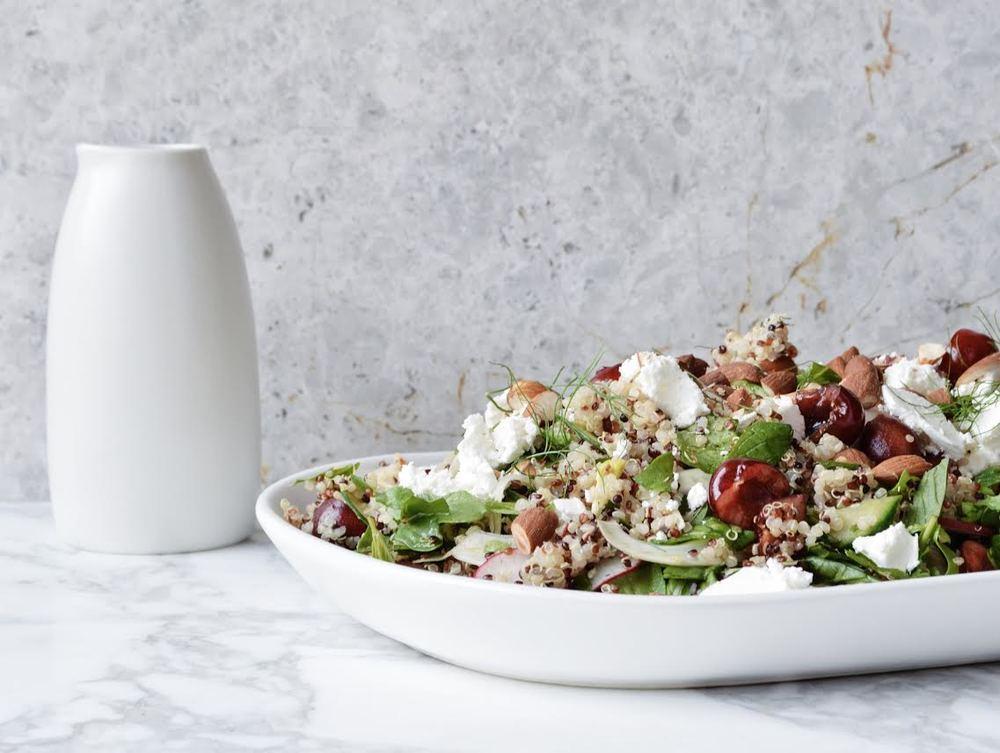 Quinoa salad with cherries
The tree is wilting, the presents are unwrapped and you've got one more event before the season wraps up. The long countdown to Christmas is over and you're now planning your New Years Eve celebration.
1 cup quinoa
1/2 cup roasted almonds, plus more to garnish
1/2 bunch flat leaf parsley
1/2 bunch fresh mint
1/2 bunch coriander
50g rocket
A small fennel bulb
3 spring onions, thinly sliced
Handful of radishes, thinly sliced
1/2 cucumber
Juice of 1 lemon
4-5 tablespoons of extra-virgin olive oil
1 cup of cherries, pitted
1/2 cup crumbled goats cheese, plus more to garnish
Rinse the quinoa in a sieve until the water runs clear.
Bring two cups of water to a boil in a saucepan.
Add 1⁄2 teaspoon of salt as well as the rinsed and drained quinoa.
Bring back to boil, reduce the heat to low, cover and simmer for 15 minutes, or until the quinoa is tender.
Remove from the heat, leave for 10 minutes, and then fluff up using a fork.
Set aside to cool.
Roughly chop the parsley, mint, coriander and rocket and add to a large bowl.
Trim the fennel, cut into quarters and slice the tough core from each quarter before finley slicing. You can use a mandolin for this step if you have one handy.
Add to the bowl along with the finely sliced spring onions and radishes.
Trim the ends off the cucumber and finely slice into thin rounds before adding to the bowl.
Add the pitted cherries to the bowl, along with any juice that may have oozed out when you pitted them.
Add the cooled quinoa along with the almonds and crumbled goats cheese.
Stir through the lemon juice, olive oil and season to taste with salt and pepper.
Let the salad rest for at half an hour then serve, sprinkled with left over almonds and goats cheese.