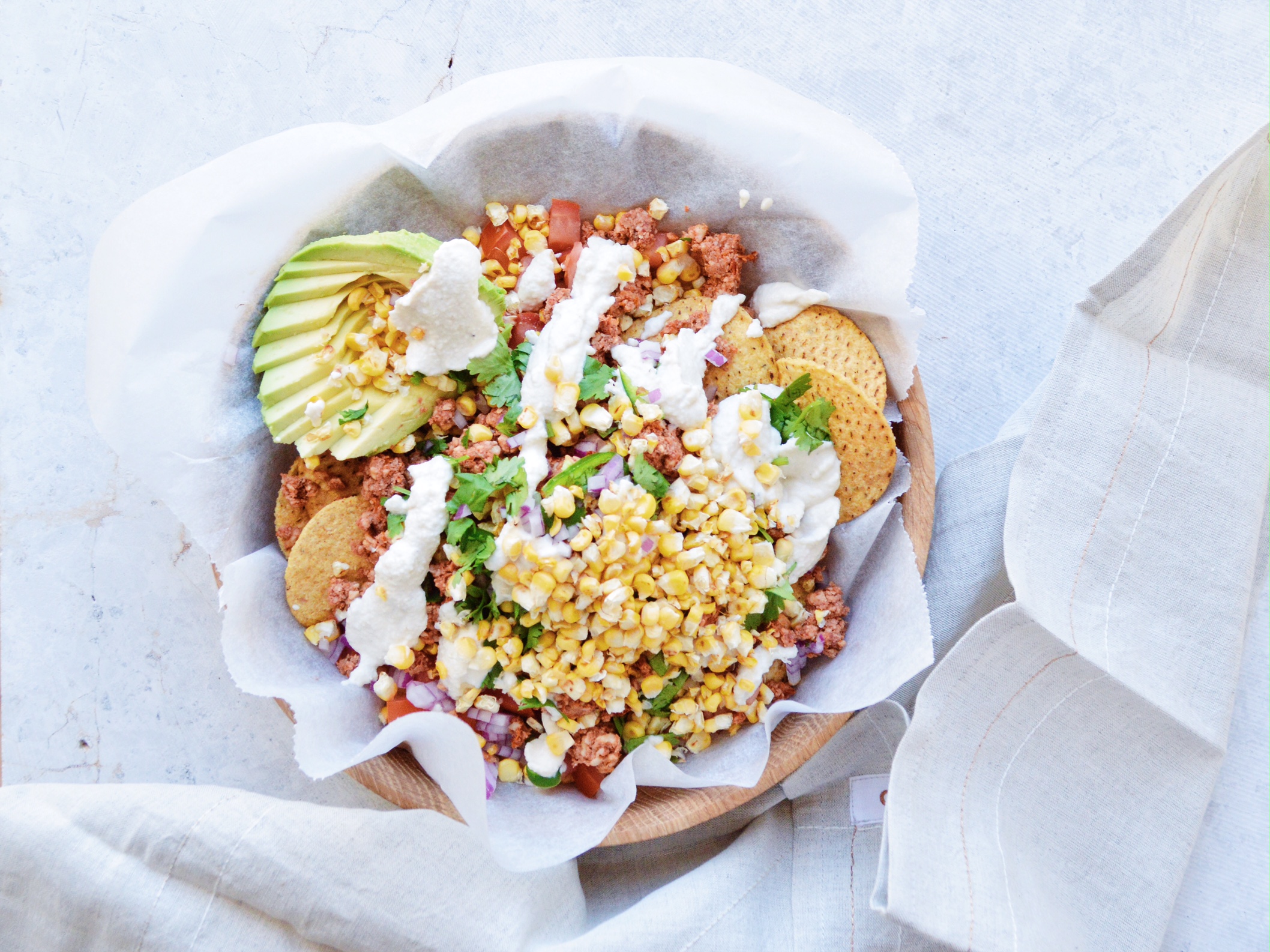 The ultimate vegan nachos with cashew sour cream, walnut crumble and a load of irresistible toppings. They're that bloody good that everybody will want to get in on the action.
Walnut crumble:
1 cup raw walnuts
1/2 cup sundried tomatoes, soaked in boiling water
1 tablespoon smoked paprika
1 teaspoon cumin
1/2 teaspoon chilli powder
1 teaspoon garlic powder (or 1 garlic clove crushed)
Salt and pepper, to season
Cashew sour cream:
1 cup raw cashews, soaked overnight
1/2 teaspoon sea salt
2 teaspoons apple cider vinegar
1 tablespoon lemon juice
Nachos:
2 chopped tomatoes, deseeded
1/2 red onion, finely sliced
1 cup corn kernels, fresh or canned
2 avocados, finely sliced
Green chilli, finely sliced
1/4 cup fresh coriander
For the walnut crumble, combine all ingredients in a blender and pulse until crumbly in texture. Don't be tempted to over blend the mixture, as you'd end up with paste. Go slow and steady.
For the cashew sour cream, drain nuts and place in blender along with 1/4 cup cold water, salt, apple cider vinegar and lemon juice. Puree until smooth and creamy, adding more water if required, then refrigerate in an airtight container until ready to use.
Meanwhile, heat a large non-stick pan over medium heat and add the corn kernels along with a dash of salt. Cook for 10 to 12 minutes until corn starts to char, stirring occasionally. Set aside.
To assemble the nachos, arrange corn chips in two medium bowls topping with the walnut crumble, tomato, onion and corn. Add a few more corn chips then add the avocado, chilli and coriander; drizzle with the cashew sour cream to finish.
Start the recipe a day in advance by soaking the cashews.