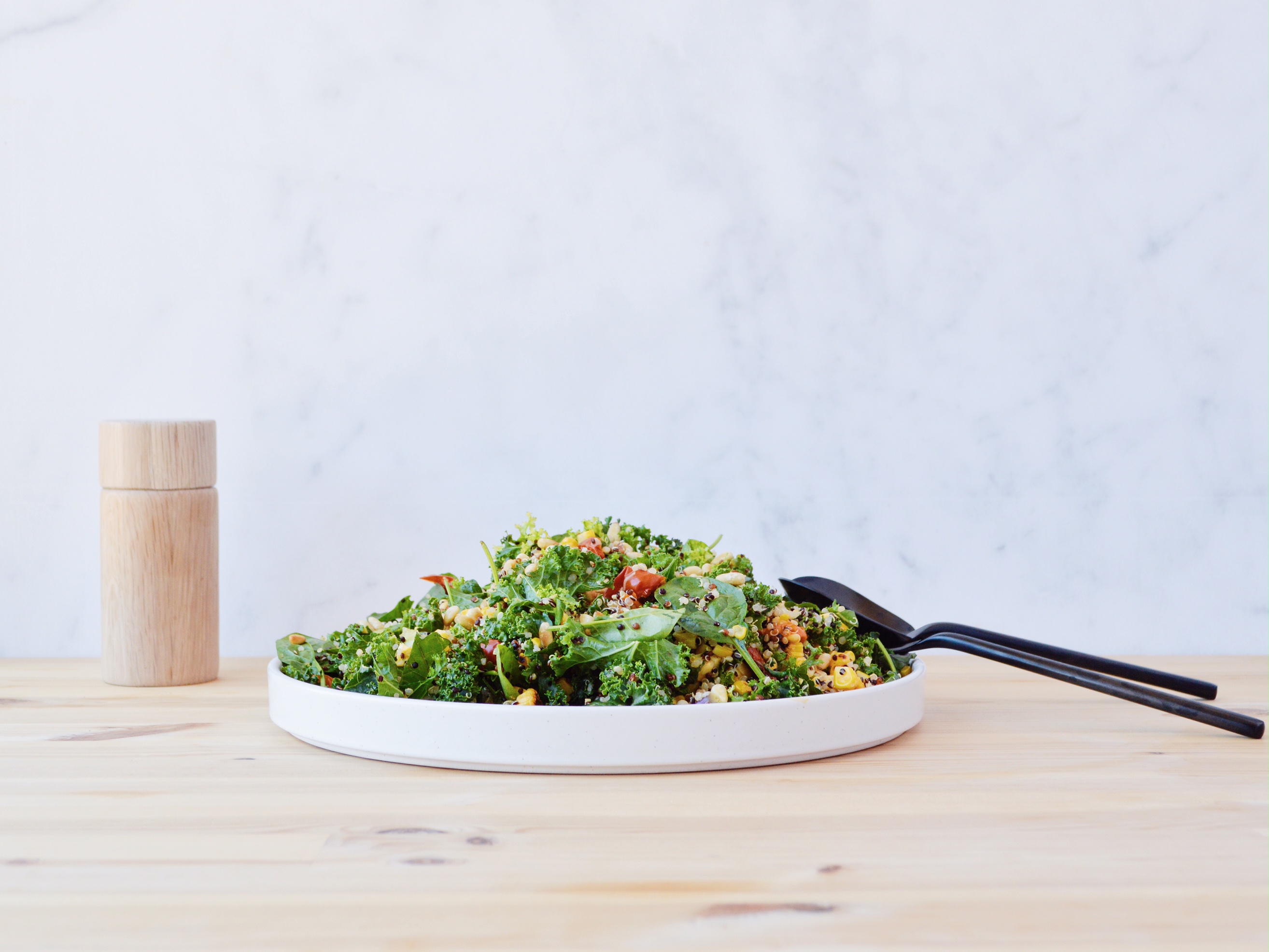 Blistered corn and tomato salad
A delicious vegan twist on a classic roasted corn salad – this one is made with roasted tomatoes and drizzled with a thick coriander dressing.
For the salad:
1 cup cooked and cooled quinoa or brown rice
500g cherry tomatoes
2 tablespoons extra-virgin olive oil
Corn kernels, from 2 corn cobs
Garlic clove, peeled
2½ cups, finely chopped baby kale
3/4 cup chopped coriander
1/3 cup roast almonds, roughly chopped
Sea salt and freshly ground pepper, to taste
For the dressing:
1/2 avocado
1 lime, juiced
1/2 cup coriander
1/2 tablespoon olive oil
1 clove garlic
Freshly ground pepper
For the dressing, puree all ingredients in a blender or food processor until smooth. Adjust seasonings if necessary.
For the salad, preheat oven to 200C then toss tomatoes in 1 tablespoon of oil and arrange on a baking sheet; season with salt and pepper. Roast, tossing once, until tomatoes are blistered and beginning to break down, 20–25 minutes. Set aside to cool.
Meanwhile, heat the remaining olive oil in a large frying pan over medium-high heat. Add the corn and a whole garlic clove and a pinch of salt. Cook until corn is browned well and charred in spots – about 5 minutes. Remove and set aside to cool (discard garlic).
In a large bowl, combine the quinoa, corn, tomatoes, kale, and coriander. Add the almonds, coat with dressing and toss to serve.
The tomato and corn can be prepared a day before – for super quick assembly on the day.