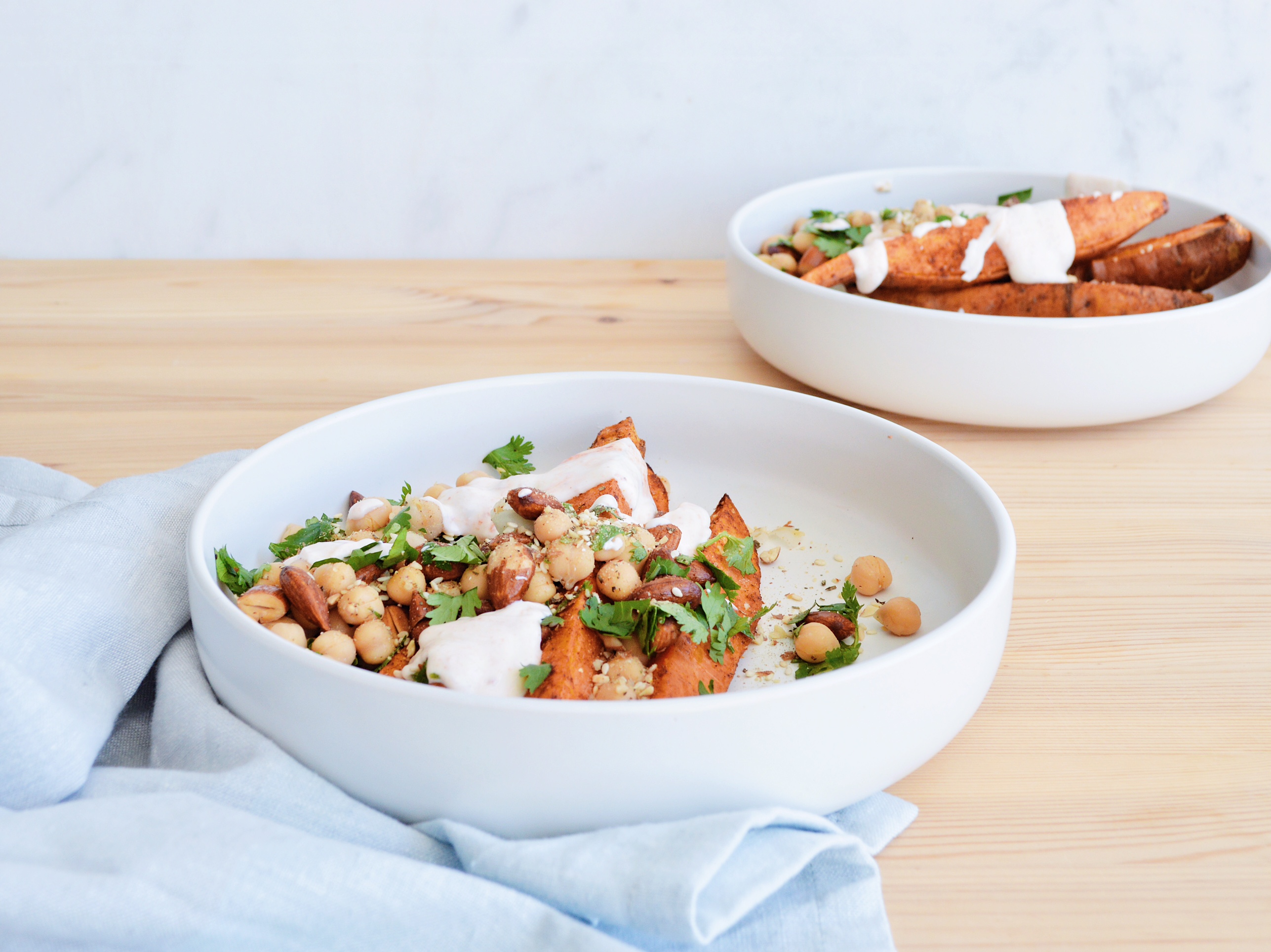 Spiced sweet potato and chickpea salad
Simple baked sweet potatoes topped with a chickpea salad and harissa yoghurt dressing. Delicious, vibrant, healthy, and naturally gluten free.
2 large sweet potatoes, washed and sliced into wedges
1 teaspoon smoked paprika
1 teaspoon cumin
2 tablespoons olive oil
1/2 cup plain Greek yogurt
1 tablespoon harissa paste
1/2 teaspoon finely grated lemon zest
300g can chickpeas, rinsed and drained
100g roasted almond kernels, roughly chopped (set aside a few to serve)
1/2 cup coriander, roughly chopped
1/4 preserved lemon, with flesh removed and thinly sliced
3 tablespoon dukkah
Preheat your oven to 200C. Add the sliced sweet potato to a large mixing bowl then sprinkle over a generous pinch of salt and pepper, and the paprika. Drizzle over 2 tablespoons olive oil, then toss everything together to coat. Spread out into a single layer over a large baking tray, then bake in the hot oven for 35 to 40 minutes, or until golden and cooked through then set aside.
Meanwhile, place yogurt in a small bowl; season with salt and pepper then add harissa paste and lemon zest and gently swirl ingredients.
For the simple chickpea salad, combine the chickpeas, almonds, coriander and preserved lemon in a mixing bowl and season with salt and freshly ground back pepper.
To serve, place hot wedges of roast potatoes on plates and top with chickpea salad then spoon over the harissa yoghurt dressing. Top with additional almonds and dukkah and serve.